Three of Teamfight Tactics' adorable Little Legends are now available via its Public Beta Environment. Paddlemar, Protector, and Hushtail will join the main game with the release of patch 9.16, each with a distinct look.
Paddlemar seems like a cross between a turtle and a dragon, while Protector is a slightly more intimidating dual-tailed tiger creature. Hushtail is probably closest to a fox, but with a trio of fluffy tails.
For the unfamiliar, Little Legends are the main representation of the player during battles in TFT. They follow their champion into the Howling Abyss to grab champions in a draft, perform victory dances on a win, and more.
According to Riot's lore, the Moontipped Hushtail is difficult to spot in the wild, while Paddlemar is too young to fly and prone to sleeping on the job. Meanwhile, the Jeweled Protector has three gems along his spine which contain a mysterious power.
Unfortunately, you'll need to have cash or a lot of luck to grab these cute avatars. In a move some players have been critical of, Little Legends are available via loot boxes you earn during play.
Upgrading your avatar to the next tier requires getting a duplicate of it, which can be quite low odds.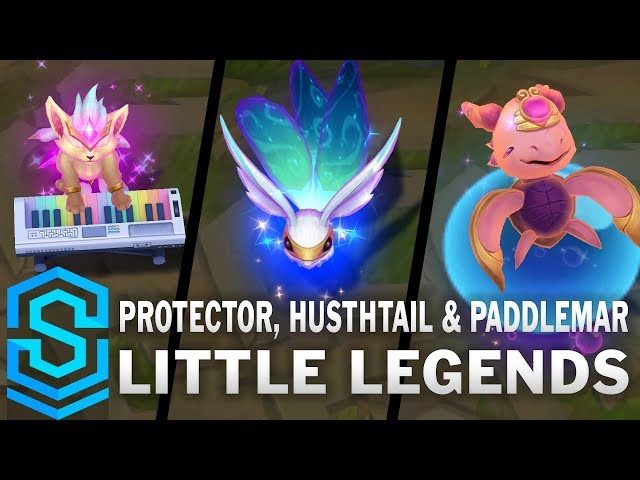 In this case, each of the new Legends has six different skins, with various colors and glowing effects. You can see them in the video above, and their names below:
Jade Paddlemar:

Rosebloom Paddlemar
Tidepool Paddlemar
Glamorous Paddlemar
Caldera Paddlemar
Yuletide Paddlemar

Jeweled Protector:

Shadowgem Protector
Reigning Protector
Skygem Protector
Fierce Protector
Sunborn Protector

Moontipped Hushtail:

Mistberry Hushtail
Fae Hushtail
Untamed Hushtail
Monarch Hushtail
It will be interesting to see if players jump ship from their current critter to a new one, given the RNG or monetary investment. There are six in the game currently, with Paddlemar, Hushtail, and Protector bringing that to nine on their release. Riot has confirmed that Teamfight Tactics is here to stay, so no doubt we'll see others soon.