Marvel's Avengers may not be out until May, but news continues to trickle out about the project since it was revealed back at E3 in June. However, with the exception of Ant-Man, the only playable characters we've been shown so far have been the core Avengers team from the first movie – leading to various concerns about character design. Finally, at New York Comic-Con this week, Marvel has revealed the first new playable hero since the E3 announcement – Kamala Khan, a.k.a. Ms Marvel.
Kamala Khan is a Muslim Pakistani-American teenager who gets powers and becomes Ms Marvel, and was introduced in 2013 – after the previous Ms Marvel, Carol Danvers, became Captain Marvel.
It's therefore interesting that Square Enix and Marvel have chosen to introduce Ms Marvel before Captain Marvel in the Avengers game – although there seems to be a reason for that. According to the description for her introduction video, Kamala Khan is the "viewpoint character" in Marvel's Avengers – which suggests she is basically the main character of the story.
Kamala Khan actually made a sneak appearance in the most recent gameplay reveal, where fans spotted a young girl during the events of A-Day wearing a Captain Marvel shirt – and who is later revealed to have been the narrator of the video. Presumably she will continue the role of essentially storyteller in the final game.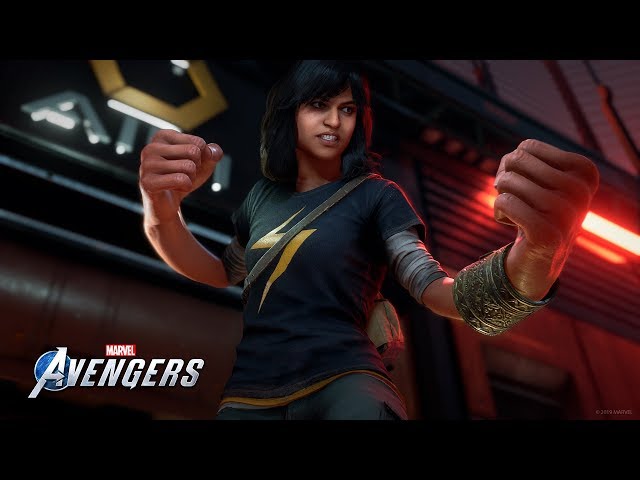 It's quite something to see Kamala's weird stretching powers realized with the more realistic style of the Avengers game. Going by the trailer and the blog description, Kamala uncovers the conspiracy to frame the Avengers seen in the first trailer – and seems to be instrumental in bringing them back together again five years later.
Ms Marvel will soon be introduced in live-action too, to the official Marvel Cinematic Universe via a TV series on Disney+ – but will probably make her debut in the game before then.