Developer Yager might just have coined a new game subgenre: free-to-play competitive quest-based first-person shooter, or 'F2PCQFPS' (our acronym, not theirs). Ok, as far as acronyms go it's a little unwieldy, but it gets the message across. In The Cycle, powered by Unreal Engine 4, you play one of many prospectors racing to harvest the resources of an alien planet. That planet is Fortuna III, and it is absolutely teeming with vicious wildlife.
You earn technology and equipment by taking on contracts for your choice of three different factions, each with their own string of rewards. As your reputation grows, so too, hopefully, does your arsenal. But it's not that simple when other players are busy throwing a space spanner in the works.
You may decide to forge a fragile alliance with someone you chance across out in the swamps, forests, and rolling hills of this foreboding frontier. If you prefer your teammates to be a little more reliable, you can a duo or four-player squad from the start. Or you can go it alone and focus on the mission, come Hell or high water, and take out anyone who gets in your way. In any case, for Yager's managing director Timo Ullmann, The Cycle is quite unlike any battle royale game – sorry, F2PCQFPS game – you've played.
The PvEvP nature of The Cycle is essentially there to create opportunity for players. "We didn't want to focus too much on the competitive aspect of it," says Ullmann, "or shooting at one another. But we wanted to give people opportunities to engage, and then to work together. And also, of course, betrayal, because we see a lot of value. If you build in these kind of social dynamics, you know, what happens if two people meet? And how are they going to go about the situation?"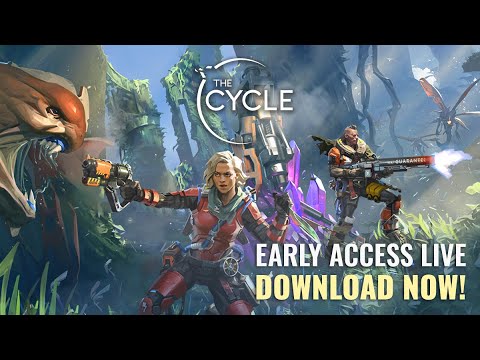 These discussions kicked off in 2016, when the core concept of a battle royale was well known but before PUBG's rampant success hinted that it would become the hottest genre in gaming. Nonetheless, Yager was already thinking about what would come next – this was the brief for the internal pitch jam that led to the idea for The Cycle.
Yager mostly spent the year doing proof-of-concept work on the side, with the majority of the team hard at work on Dreadnaught, the well-received flight combat game that also used Unreal Engine 4. But where that game was externally funded, The Cycle is the first time this 20-year-old studio is going it alone. Developing and publishing, all in-house. Together with Unreal Engine 4, the only constant, this is a chance to make something completely new.
"The liberating thing about that is that we are masters of our own fate. Yeah, if we screw up, we can hopefully pivot and then correct that… We put the game into production in February of last year. And one-and-a-half years later, we have it in early access. So that's pretty awesome. It's a testament to how agile we are, but also how cool the tools that we're working with are."
Wheel of Fortuna
As you'd expect, Yager knows its tools well. The studio was using them as far back as 2005, with acclaimed military shooter Spec Ops: The Line. That was, of course, an Unreal Engine 3 production. In the decade and a half since, Epic has paved the way for developers like Yager to truly realise their ambitions.
Take, for instance, the way Unreal Engine 4 facilitates detailed open worlds. "One of the challenges," says Ullman, "was how are we going to split up the map in manageable chunks in rendering not just the level itself, but also all the elements that are around there, to keep the performance up. So that's a constant battle in terms of getting good performance out of it, optimising it in a way that can cater to a lot of different hardware sets." In The Cycle, you're going to fight numerous enemies both human and AI across a vast environment, and from what we've seen, the frame rate remains rock solid.
Speaking of the map, another handy Unreal Engine 4 feature is its ultra-modifiable nature. Simply, developers can go in at any time and reshape the level as they see fit without messing everything up. Besides regularly tuning The Cycle's map for balanced and exciting gameplay, Yager aims to reveal the backstory of Fortuna III, and hint at its future, through its environment. It's no surprise that Unreal is so good at this considering that Epic's Fortnite refreshes its island regularly, adding new landmarks and adjusting existing ones both between and within seasons.
Cycle to work
It's not just the map that Yager is adjusting on the fly, but the core mechanics themselves. Players registered for alpha testing are already getting stuck in to The Cycle, and their feedback is crucial in shaping the game's future.
"There's always this conundrum from a design perspective," Ullman tells us. "You know where you want to get to, but you never know for certain how people are going to respond to it: whether they think it's actually cool, or if you're working on a feature that you fell in love with whereas people out there say 'I don't care, really'. It would be harmful to invest a lot of resources then, so that outside testing is becoming more and more important." As the playerbase grows, Yager is constantly reading data such as heat maps to implement features and address concerns. With Unreal Engine 4 being as easy to work with as it is, that becomes a whole lot easier.
As Ullman says, "When we see people coming from other battle royales, they adopt that playstyle. And we want to enable them to do that [in our game] also. But at the same time, we can give them opportunities to try out different things." Yager is attempting to appeal to people who have never once set foot in a last-man-standing arena while, at the same time, refraining from alienating battle royale purists. The various ways you can play The Cycle attest to that.
This is the first game Yager is publishing itself, and despite the boldness of the idea, Unreal Engine 4 provides the confidence to push forward into strange, genre-defying spaces.
The Cycle is in Early Access on the Epic Store and is free-to-play. Unreal Engine 4 development is now free.
In this sponsored series, we're looking at how game developers are taking advantage of Unreal Engine 4 to create a new generation of PC games. With thanks to Epic Games and Yager.