How do you unlock the Diamondback Exotic in The Division 2? The souped-up rifle has returned. So, naturally, the collectors among us who missed out last time will be keen to get our hands on it and add it to our Division 2 Exotics collection.
There are a few ways you can get your hands on some of The Division 2's best guns. A few, like The Division 2 Pestilence Exotic LMG, require you take down a named foe. Easy enough, but others, like the Nemesis Exotic sniper rifle, are obtained more often by finding a blueprint and then locating the necessary crafting parts.
For The Division 2's Diamondback, you'll need to find three parts to put together your new Exotic rifle. The expedition to get those parts aren't, er, always available. Thankfully, we've put this Division 2 Diamondback Exotic guide together to give you all the information you need on that. Here we'll go over the perks that the Exotic rifle comes with alongside how and when you can get everything you need to craft it.
The Division 2 Diamondback Exotic talents
Sure, the whole snakes on a gun vibe will leave the ophidiophobia sufferers among us feeling uneasy – but its associated perks should remedy that. The Agonizing Bite perk means that the Exotic gun will randomly mark an enemy, and hitting that enemy consumes the mark. Doing so guarantees the critical hit with an extra 20% to total damage. The mark passes on when the previous enemy has been hit, or if you reload your weapon.
After you hit five enemies you'll activate the Deep Fangs perk, which grants +50% reload speed, +20% total damage, and every shot you fire guarantees critical hits for ten seconds. Lastly, the Shedding Skin perk means that you'll pick up an extra 20% bonus armour for three seconds if you reload Diamondback. While it is holstered, you can pick up +8% bonus armour for two seconds by reloading or cycling your equipped weapon.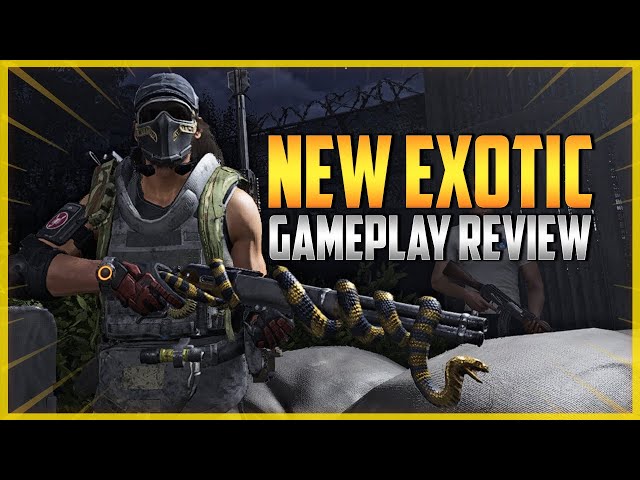 How to unlock The Division 2 Diamondback Exotic rifle
If you're looking to pick up this Exotic then you're in luck! Ubisoft has brought Keenly College back which means you can complete the three Convoy investigations needed to get the Diamond Back Exotic rifle. They are called Kenly Library, Kenly Metro Station, and Kenly Student Union if you're curious. Better be quick though, as Kenly College is in rotation – meaning that it may vanish for another spell of time.
If you weren't around last time, Kenly College's investigations have you crisscrossing back and forth across large areas – so they feel more loose, as opposed to the usual front-to-back mission structure.
Once that's all done, you'll gain access to Kenly Chapel. You'll find it on the map to left of the campus if you're lost. All you have to do now is head on in, open up the chest, and a Diamondback Exotic rifle will be all yours.