The action in The Division 2 up to this point has been centered in Washington, D.C. and its environs, but this month, agents will be heading back to where it all began. Episode 3 of The Division 2 arrives some time in February, and as we've suspected it'll take agents to Brooklyn's Coney Island neighborhood and reintroduce some enemies from the original game.
Episode 3 is free to everyone who owns The Division 2, and it adds two new main missions set in the Coney Island ballpark and the iconic amusement park, and Massive says it will push the story ahead significantly. You'll be searching for a scientist who may have a cure for the pandemic 'Green Poison' super-virus that's been unleashed on the world, and the heavily-armed Black Tusk are holding him somewhere in Coney Island.
But the Black Tusk aren't alone in the area. It turns out that some of the Cleaners gang survived after the events of the original game, in which players raid the Cleaners' headquarters and destroy their napalm production facility – killing boss Joe Ferro in the process. Well, they're back, and they've brought their flamethrowers with them to the park.
Here's the trailer for Episode 3: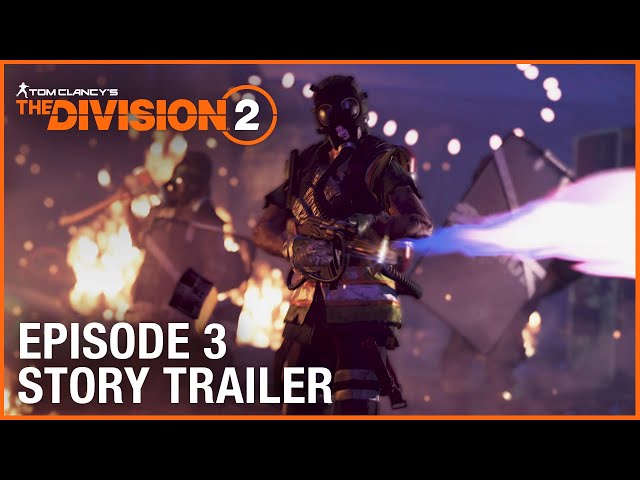 Since the Cleaners get to bring flamethrowers to the gunfight, it only seems fair that players should get the opportunity, too. Episode 3 introduces a new specialisation, the Firewall, which includes the K8-JetStream flamethrower as its signature weapon. While it's limited to about 15 meters in range, the specialisation gives you a new skill variant for the shield that lets you double up and carry both the flamethrower and shield at the same time.
There's also a new exotic weapon called the Chameleon, which is an assault rifle that adds buffs as you land specific kinds of hits. The Adaptive Instincts talent adds buffs to critical hit chance and damage, weapon damage, and reload speed as you land series of head, body, and leg shots respectively, and these buffs can be stacked so they're all active at the same time.
Massive recently went into detail on Episode 3 in a recent State of the Game livestream, and The Division subreddit has a good summary of what it covered.
Season pass holders will be able to play the new missions seven days early, but all owners of The Division 2 will see bug fixes and other improvements in a patch released at that time.