Version 5.0 of Morrowind Rebirth is now available, and with it comes a massive list of updates and changes to the overhaul mod for Bethesda's 2002 Elder Scrolls RPG. The updated version of the mod adds a host of bugfixes, new creatures, new weapons and armor, reworked character models, and improvements to cities and settlements.
Modder trancemaster_1988 says thousands of hours have gone into creating Morrowind Rebirth, with hundreds spent on this latest update alone. It's clear they've gone through the game and the mod with a fine-toothed comb, just based on the patch notes – everything's covered from background colors on armor textures to fiddly bits of obscure questlines.
The current version of the mod also pulls out a lot of redundant code and texturework in an attempt to make Morrowind Rebirth "less bloated," which is how I always wish I felt after eating a large burrito.
Another nice addition, however, is a brand new plugin called Morrowind Rebirth – Tools [Addon], which makes all the changes the mod makes to apparatus, lockpicks, probes, and repair items optional.
Here's a trailer for version 4.8, to give you a sense of what this overhaul does.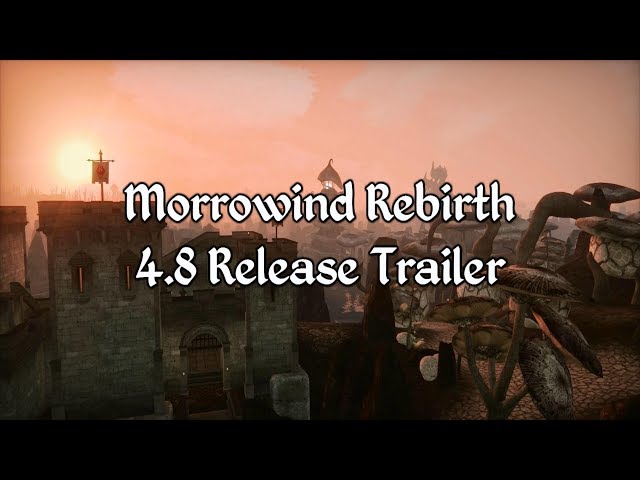 What's perhaps the nicest thing about Morrowind Rebirth is the the thought that's gone into making Vvardenfell feel more lived in, and how its spaces are more navigable. The island-based city of Vivec, for example, now has more bridges, which makes getting around the place much less of a pain in the neck.
Play your way: The 100 best Skyrim mods
You can head over to ModDB to download Morrowind Rebirth now, and to read the complete list of changes and additions. It's compatible with OpenMW and with most mods that add new textures, alter stats, or add new features via scripting, but it won't work with any mods that make changes to meshes (like new rocks or trees), mods that add buildings, or mods that change the landscape.