There's so much to pick up in Skyrim that you might want to hang on to. The array of useful poisons, potions, weapons, armour, enchanted trinkets, foodstuffs, and more to be collected is huge. Sadly, accessing all these goodies in the heat of battle isn't always as easy as you'd hope – but now a mod is here to help. Some creators over at Nexus Mods have forged a hotkey system to reduce the time you'll spend scrolling menus for your swag.
The iEquip mod by creators dunc001, MrNeverLost, and Fudgyduff is here to help with "menu grind", and described as "a fully featured hotkey gear switching and equipment management mod, complete with advanced SkyUI HUD widget". Using just "four main gameplay hotkeys" you'll be able to "switch weapons, spells, shouts, powers and other equipment on the fly", and cycle through ammo, your other gear, and charge your enchanted weapons, without having to pause your game to peruse and pick out what you need from a menu as before.
On top of this, you'll get access to "Quick" functions, which will get you equipping the ranged weapon, shield, potion, spell, or ward you might need in a scrape, in the blink of an eye. Neat.
The core features of the mod are impressive, with full support for more or less any usable item you might think of. Particularly useful features include "individual cycler queues for left and right hand equipping", intelligent selection and grouping of health potions – plus, my favourite, support for beast forms. If you want to stretch your legs as a werewolf, you'll get access to "power, spell and howl switching" courtesy of iEquip.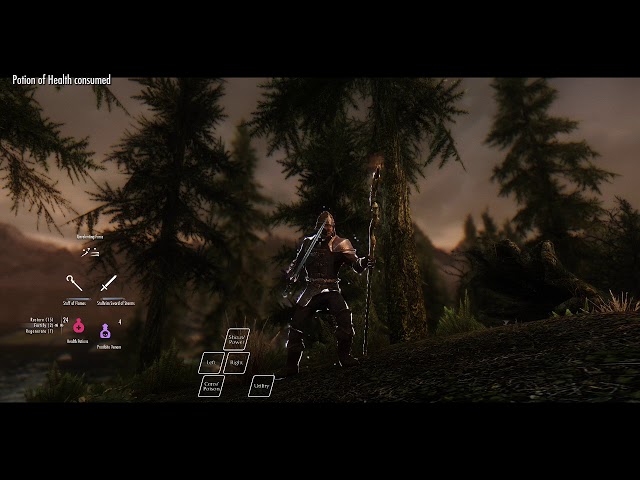 It looks like the creators really have thought of everything, with the mod including some advanced features sure to come in handy for those times when you get dogpiled by a horde of angry draugr and can't seem to find the right axe quickly enough. It has options like "QuickRanged"and "QuickShield" that scan your inventory to find suitable weapon and shield alternatives for you if there's nothing found in your queues.
More modding: Check out the 100 best Skyrim mods
There's a raft of other cool features which you can check out in full on the iEquip mod page, plus a breakdown of how it works should you wish to streamline your Skyrim selection experience. Just imagine how much extra time you'll get to stop and smell the flowers (and mushrooms) of Skyrim with all those saved seconds added up.