As one of the best RPG games out there, The Elder Scrolls V: Skyrim offers a ton of options for customising your character, weapon, and to some extent, environment (though only in your chosen abode). But, have you ever wished you could mould more of the world around you, Fallout 4 settlement-style? If so, you're in luck – there's a new legendary version of a mod that lets you craft over 1,000 items to decorate your corner of Tamriel. Oh, and there are working, placeable catapults. With flames.
Building on an earlier version, LVX Magick's Campfire Unleashed – Wild Fires: Legendary Edition mod lets you "make Skyrim the way you want it" by adding the ability to create a huge number of items and place them pretty much wherever you like. These range from landscape-changing (roads, trees, tree bridges, flora, and more) with the ability to "run rivers, creeks, and mountains where you would like them," to more domestic items, such as furniture, containers, signs, wall torches, and even "whole castles."
Also included are altar statues offering temporary transformation into a werewolf or vampire, and of course, fully functioning catapults you can place, load with fire, launch, and then pick up again. Phew.
Get a look at the catapult in action below: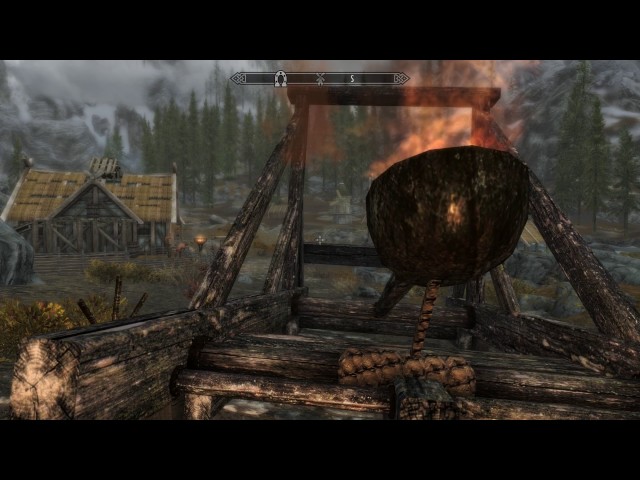 The mod – which you can grab here – uses the Campfire Complete Camping System mod by creator Chesko, which you'll need to to download to get Campfire Unleashed up and running.
If tinkering with the game is your thing, check out our list of the best Skyrim mods on PC to give you some ideas of what's possible. Just be careful not to get too carried away with your creations – PCGamesN editor Ben once became a prisoner of his own Fallout 4 settlement in sunny Sanctuary Hills, and with all these options on offer, you might never get round to saving Skyrim.