It's always been a cool feature of Skyrim that you could hand some gear or garments to your follower to carry – you know, when you've swiped too much loot and your legs are tired – and they'd often adopt them as their own. Essentially, you could sometimes dress them up. Now, one modder has extended a similar idea out across the whole of Skyrim to every NPC – so you'll be able to mix, match, and modify the outfits of everyone you meet.
The Dress Up Lover's NPC Outfit Changer mod by creator Kuroko137 gives you, the Dragonborn, an all-new power – to approach NPCs and tell them what to wear, almost literally. The mod gives you a new dialogue option when interacting with them: 'change outfit.' From this, you can choose one of three main categories of outfits to bedeck the citizens of Tamriel in – 'Custom Outfits,' 'Preset Outfits,' or 'Empty Outfit.'
While the Preset Outfit option is great, "covering most vanilla outfits," and so allowing you to kit out Skyrim's residents in your choice of the clothes you might have seen around its towns, dungeons, and shops, the Custom Outfits choice is where it gets really cool. It lets you pick up to 150 custom outfits (or even 300 if increased in the mod configuration menu) that you've created and dress up your chosen NPCs in them.
You can edit these using the mod's 'Open Manager' option – also found in the dialogue choices – with a really simple interface to help you build your ultimate looks from scratch.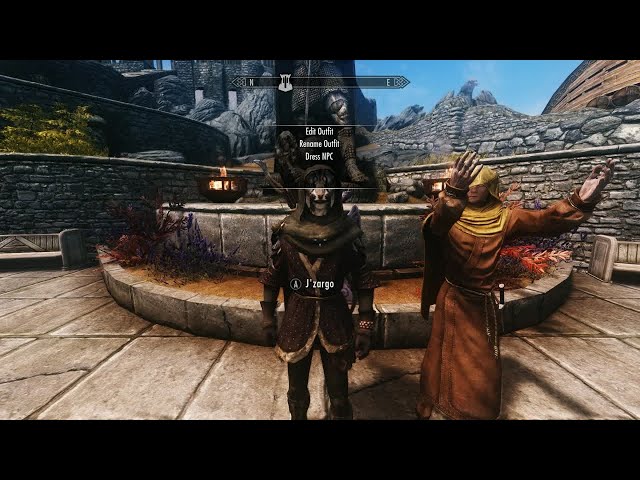 You can check out a video of Khajiit sorcerer J'zargo getting the mod's dress up treatment in the video above. At one point, you can even see him become the fearsome dragon priest Miraak.
If you're keen to grab the mod and get customising the Skyrim populace's ensembles, head over to Nexus Mods. Just be sure to follow the creator's guidance on how to get it working smoothly. Once it's up and running, visit our list of the 100 best Skyrim mods for more ways to transform your Skyrim experience.