The Outer Worlds sees Obsidian returning to first-person RPGs for the first time since Fallout: New Vegas. After that spinoff, the studio focused on top-down CRPGs like the excellent Pillars of Eternity series. While not a Fallout game, and in no way connected with Bethesda, The Outer Worlds will look familiar to fans of the series, thanks to its retro-futurist aesthetic and open-world.
Fans have been vying for a game of this ilk for a while as Fallout 4 struggled to match the wilder character and bright colours of Obsidian's New Vegas strip. But it also speaks to fans of the older isometric Fallouts as Obsidian's RPG is helmed by the series' creators, Tim Cain and Leonard Boyarsky. After the trailer debut for The Outer Worlds at The Game Awards 2018, the internet has been ablaze with hype, but you may be wondering what we actually know about the game as of right now. Is the hype justified?
What kind of gameplay we can expect and when we'll be able to get our hands on it are questions worth asking. Despite sparse details being released, we can infer a lot from the drip-feed of gameplay, previews, and trailers we've been offered since the reveal. Here's our guide to everything we know before The Outer Worlds release date lands.
THE OUTER WORLDS RELEASE DATE
You'll be able to boot up Obsidian's space romp later this year, as The Outer Worlds release date is October 25, 2019. That also means it'll be available on the Xbox Game Pass when it launches, so there's plenty of ways for you to dive in.
That said, there will not be a The Outer Worlds Steam launch until 2020: Obsidian's sci-fi RPG will be an Epic Games store exclusive for its first year. While this is certain to rub fans of Valve's storefront up the wrong way, another detractor is the notoriously busy writer Chris Avellone. The former Obsidian story-crafter has dismissed the move as "a cash grab".

THE OUTER WORLDS STORY
In The Outer Worlds, you play an unlucky passenger who wakes up on a colony ship drifting off course in the outer reaches of our galaxy. Your vessel missed its designated location and has been travelling off course for 70 years. You name and create your own character, but they are always human.
You start by being rudely awakened by a mad scientist and tasked with finding the resources necessary to awaken the rest of the hibernating ship. To complete this, you decide to head to a nearby planet known as Halcyon, which is controlled by corporations vying desperately for power.
Supposedly, the corporations are terraforming alien planets, creating colonies like the one you land on, to turn them into habitable spaces. However, on Halcyon this process hit a couple of kinks, leaving behind leagues of mutated aliens that constitute the mobs you'll face during gameplay.
You're tasked with finding a ship which, once procured, will act as your main hub where you can speak to your fellow companions and manage your inventory. After that, you can freely explore and find settlements, space stations, asteroid bases, and an Arcadian paradise for the wealthy. Obsidian has also teased a separate planet known as Monarch in previews which is even more dangerous than Halcyon.
The game is being directed by the minds behind Fallout, both Tim Cain and Leonard Boyarsky, who are combining their dark and silly styles of humour to create a balanced tone in The Outer Worlds.
Society in The Outer Worlds is beyond prejudice and racism, concepts that are replaced by the ceaseless conflict between the corporate factions that make up Halcyon. Drugs are a core part of the economy and most corporations are slinging them, attempting to hook the masses on their snake oil. When civilians aren't doped up or fighting each other, they're falling on the sword of their favourite brand. Employees live and die by their employer in this game, and it's your choice whose propaganda you wear, even when the lines get blurry. In an interview with Obsidian's game director Leonard Boyarsky, confirms that The Outer Worlds has two main endings, but with "quite a lot of variations".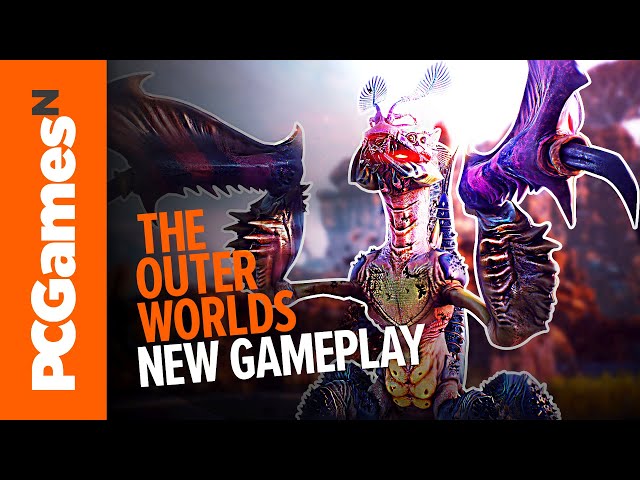 THE OUTER WORLDS GAMEPLAY
As with Fallout: New Vegas, this is a single-player sci-fi RPG played in a first-person perspective. We drew parallels between the worlds, and its quests in a hands-on with The Outer Worlds. You need to help decide the fate of the colony ship Halcyon by interacting with the various factions in whatever way you please – whether that's conversing, shooting, or sabotaging them. The game is driven by a story that fits around player actions and decisions. You can see some combat encounters in 20 minutes of The Outer Worlds gameplay from TGS.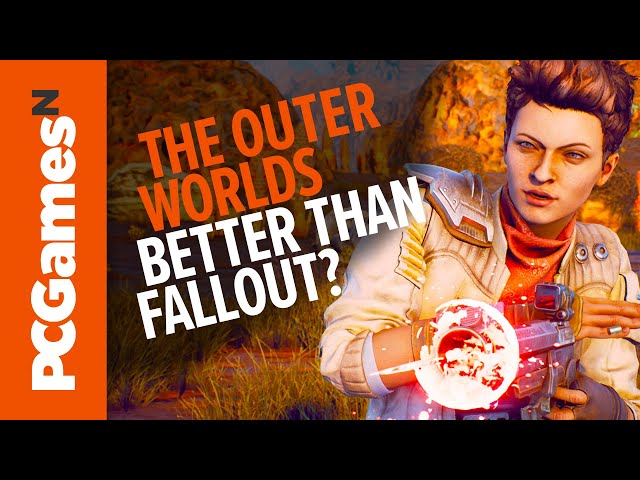 You can customise the look of the protagonist but they will not be voiced. However, the dialogue skills you know and love from other RPGs will function as expected, and they'll even work in combat. You can lie, intimidate, or persuade foes and they may flee as a result. You can also choose 'Dumb' responses in dialogue to create an idiotic protagonist if you so wish. That's cause for Ian fans to rejoice.
All of this also depends on how you choose to upgrade and shape your character through the levelling system. You can set them up with 'aptitudes' that make them strong with certain weaponry, become an engineer or a scientist, or just work towards being a social butterfly who talks their way out of most problems. The buck falls to you to figure out who you want to be in this wacky, profit-obsessed world.
You'll be able to recruit companions, with each bringing unique benefits to combat, but there's no The Outer Worlds romance system: this feature was cut from the game. Companions can interject and use their skills to further conversations or resolve difficult situations, instead of the onus being solely on you.
We met some new The Outer Worlds companions during E3 2019, one was a big game hunter with a penchant for a bevvy. Called Nyoka, she specialises in combat and stealth – adding those strengths to your group. Another companion we met was Ellie, who is a medic with the gift of the gab – meaning that she heals your team while providing additional dialogue options elsewhere. If you want a more challenging experience, you can kill everyone in The Outer Worlds and still complete the game, even potential companions, NPCs and quest-givers.
One of the most interesting perk trees in The Outer Worlds is the Leader tree, which sands down your own abilities in favour of your companions. You become less specialised, but the benefit is that your companions will deal more damage or have more defence.
If you strongly disagree with a companion then they can decide to up and leave you on their own volition. You can also customise companions in a manner similar to the player character as they have their own perk trees.
Mod culture: These are the best Fallout: New Vegas mods
One of the more original concepts in the game are flaws, which are permanent negative ailments that you can choose to accept in face of a grievous incident, allowing you to create a more dynamic character. There are 24 different types and you can have more depending on the difficulty level you choose.
If you choose to take a flaw you'll receive a perk, so it's all about how you balance this system to create the character you want to roleplay. You'll also be able to sleep to make use of the game's day/night cycle.
Traversing the world is done by walking but you can also use your ship's computer, ADA, who will transport you to Landing Pads which work as fast-travel checkpoints. There might eventually be The Outer Worlds mod support, too, but not at launch.
THE OUTER WORLDS weapons
Ten different brands of weapons are going to be found in the final cut of The Outer Worlds, working similarly to how they do in Borderlands. There will be both luxury and scrappy brands, affecting the quality of your weaponry. So you can see how the megacorporations form the backbone of Halcyon.
The Outer Worlds' combat also offers a VATS-adjacent system known as Tactical Time Dilation (TTD) that will let you study a foe for weaknesses, yet it still requires manual aim. There is no dice-roll accuracy tied to the combat, but numbers pop up above an enemy's head when you fill them full of holes, which is telling of the combat style Obsidian is trying to curate here. Oh, and The Outer Worlds VATS system will also tell you your foes favourite food, meaning that all vital information is, truly, present.
There's a multitude of ammo types too, and a suite of Science weapons that are mainly for fun, like the Mandibular Rearranger, a weapon borne from a bug that added random values to NPCs heads and faces. The UI in The Outer Worlds takes a leaf out of Bioshock's book with its bubbling dual health and special bars in the top left. Meanwhile, the dialogue menus are almost identical to the first two modern Fallout games, down to the close-up when you choose to speak to an NPC, albeit with some much appreciated soft focus.
THE OUTER WORLDS TRAILER
Check out the reveal trailer above for our dive into the wacky landscape of The Outer Worlds.
The Outer Worlds System Requirements
The full system requirements for The Outer Worlds, the open-world space RPG can be found below.
THE OUTER WORLDS MINIMUM REQUIREMENTS
OS: Windows 7 (SP1) 64bit
CPU: Intel Core i3-3225 or AMD Phenom II X6 1100T
RAM: 4GB
GPU: Nvidia GTX 650 Ti or AMD HD 7850
HDD Space: 40GB
THE OUTER WORLDS RECOMMENDED REQUIREMENTS
OS: Windows 10 64bit
CPU: Intel Core i7-7700K or Ryzen 5 1600
RAM: 8GB
GPU: GeForce GTX 1060 6GB or Radeon RX 470
HDD Space: 40GB
The Outer Worlds release date is not far off, with just over a month to wait until Obsidian's accessible new space adventure.
In an interview with The Outer Worlds senior designer Brian Heins, he confirmed Obsidian is not a crunch studio and all the different ways you can play The Outer Worlds when it lands on October 25, 2019.