Giant Squid has a way of making its characters glide. Even if you're playing with the world's chunkiest controller or fattest thumbs, Abzû's underwater diver smooths any clumsy input into beautiful, fluid movements. It's engrossing even to watch, and makes moving through the game's underwater world a pleasure. The team understands this, which is why even though their new game deals with a different kind of movement, they are keen to capture its beauty, too.
That game is The Pathless, in which you play as The Hunter, a graceful master of archery who travels to an island to dispel a dark curse. She befriends an eagle, and together they fight the cursed spirits that haunt a misty forest as they seek to unravel the island's mysteries. The trailer for The Pathless shows the feature that has made Giant Squid's name – the fluid movement of giant creatures, not the sea monster – as the Hunter sprints weightlessly through endless trees.
"Smooth, fluid movement is a core principle of what we believe makes a Giant Squid game," creative director Matt Nava says. "This time around, we are creating a unique archery system that allows players to shoot with timing mechanics, rather than traditional aiming. This approach allows accurate archery to combine with our fast and fluid character motion. It's important that all players will feel like the skilled Hunter."
Just as Abzû made players feel like an underwater ballet dancer, with The Pathless, Giant Squid aims to make players feel like an expert hunter. Stylish moves that flaunt her proficiency are one way of doing this: as she aims to shoot an arrow, she momentarily switches from a run to a slide, and when she lets her arrow loose, she returns to her running pose.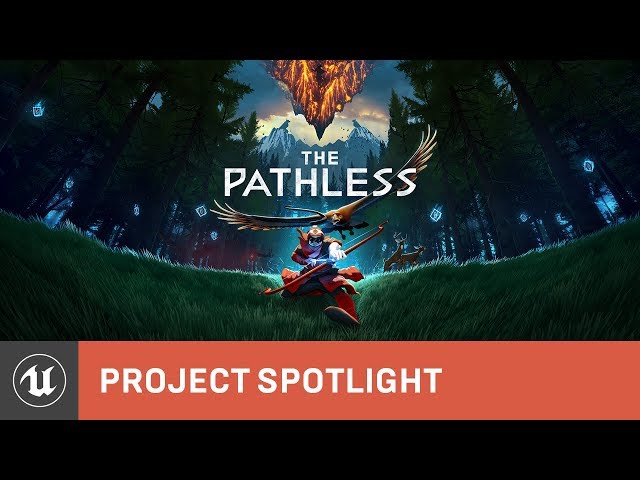 The transitions between these animation states need to flow seamlessly, and working within Unreal Engine gave the studio's artists freedom to create the world they envisioned. "We used Unreal Engine to develop Abzû and have a deep understanding of it at this point," Nava says. "It's a powerful tool for making games with a unique look like The Pathless because it puts a lot of power in the hands of artists.
"The one tool that stands out to me is the node-based material editor. It really allows us to create unique effects and shaders quickly and easily. It enables artists to make a large variety of effects without needing support from our programmers, which saves them valuable time."
Giant Squid also uses Unreal's node-based editor in a unique way during their creative process. "We don't just use it for the standard stuff like texturing static meshes," Nava explains. "We actually use it to author volumetric height fog with scrolling cloud banks that conform to the surface of the mountains and plateaus of the island."
The atmosphere the devs can create as a result is a vital part of Giant Squid's games. Both Abzû and The Pathless are wordless journeys, meaning that the mood and music have to do the talking. The forests and mountains of The Pathless are shrouded with a deep fog, inviting you to leap through and penetrate the clouds. "Abzû players will definitely notice familiar things in the visuals and game feel," Nava says. "However, there are significant differences, like the open-world structure and the grounded, bounding gameplay."
The Pathless shares many common threads with Giant Squid's previous story beneath the waves. But where Abzû was more tranquil and subdued, The Pathless is brimming with energy and rhythm. The trailer shows a number of giant mythical monsters that shake the ground as they run. It looks dynamic, action-packed, and a whole other world from the tranquility of Abzû.
Although The Pathless looks like a step in another direction for the studio, Nava says that both games will still share the same core themes of "humanity and our place in nature, bonds with animals and respect for life."
The Pathless is planned to release sometime in 2019 on the Epic Store. Unreal Engine 4 development is now free.
In this sponsored series, we're looking at how game developers are taking advantage of Unreal Engine 4 to create a new generation of PC games. With thanks to Epic Games and Giant Squid.