We remember walking around EGX in 2014 and seeing the queue for Eve Valkyrie – at the time one of the leading promise makers about the potential of virtual reality to transform gaming. At EGX Rezzed in 2016, we saw a demo of The Assembly, a first-person exploration adventure, and tried Carpe Lucem, a lovely, relaxing puzzle game about connecting light-pumping pipes to one another.
The point: our understanding of the design mechanics and game genres best suited to VR has changed since the first generation of modern headsets were still in development. Flight sims and shooters were once thought to benefit most from the added immersiveness of VR; now we understand that they're most prone to inducing nausea without some very careful countermeasures.
"Our understanding of the design language of VR has changed significantly since the very early days," Alex Moore, lead designer of The Persistence at UK studio Firesprite, says. "It's obvious that VR is a magical technology that can transport you into a virtual world like no other medium, but the inherent problems with nausea and control interfaces are things we have been able to overcome more successfully in the past few years."
Drawing on System Shock, Dead Space, Alien, and "various sci-fi short stories, such as Stories of Your Life and Others by Ted Chiang", The Persistence is a roguelike sci-fi horror action game that originally launched exclusively on PlayStation VR. A non-VR version has just launched on other platforms, though the Steam release can be enjoyed either with or without a headset. "We wanted to create a game that had familiar action, or fun weapons, challenging enemies and some major scares, but also for the player to experience being isolated and alone against insurmountable odds," Moore says.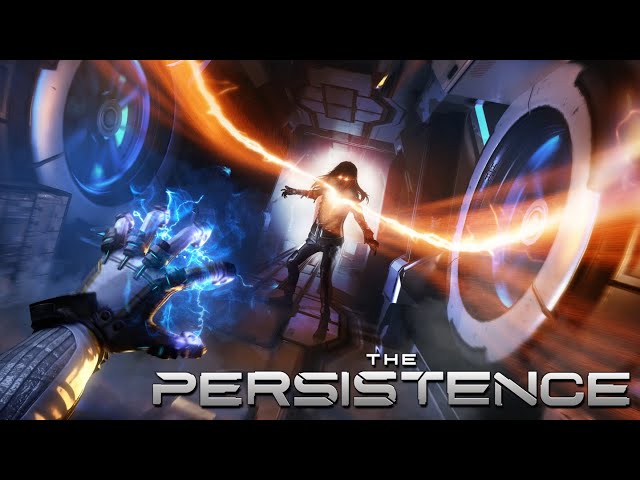 It's a big ambition for the endlessly inventive studio – in its previous guises as Sony Studio Liverpool and, before that, Psygnosis, Firesprite gave us Wipeout and a number of PC classics such as Lemmings and the splendidly impenetrable Discworld games – and one that existed before the modern wave of VR. "We had talked about our passion for creating a sci-fi horror game for many years," Moore says – but the team may have been spurred into action by the new medium. "We wanted to create a fresh take on the genre, and we were fascinated by the new design language of working with VR. We decided to make a game with a roguelike core loop, as we thought that the quick 'live, die, repeat' loop would be great to give players a break from playing in VR when they needed it."
Got a headset? Check out the best VR games on PC
But even though The Persistence leans far more towards atmosphere than action – Dead Space more than Doom – it's still a first-person shooter, and the aforementioned hurdles must be leaped. Teleportation is a device that has often be used to ameliorate nausea in first-person VR games – most recently in Half-Life: Alyx – but Firesprite really wanted to leave its stamp on this area and offer "full freedom of locomotion in VR with a minimal amount of nausea," Moore says. "We did a lot of work on the movement of the character, especially with their rotation, as this is the main culprit for causing nausea in a VR FPS. We also removed jumps, stairs, and ramps from the world as many players found these difficult."
These concerns, and others native to the world of VR, necessarily had a major impact on the design of The Persistence. "Making The Persistence a horror was partly shaped by the medium of VR, as we expected that it would heighten the scares for the player, as well as transporting the player to a new world where it is easy to believe you are actually there."
Echoing recent comments by Xbox's Phil Spencer, Moore adds that "we also realised that VR can be a somewhat isolating experience, which is why we really wanted people on the sofa with you to be included in the experience – which is why we developed the Solex companion app." This phone app enables others to affect your game of The Persistence directly: "If your friends want to help you, they can distract enemies and lead you to hidden powerups, but if they want to have some fun with you, they can switch off the lights and lure any number of murderous mutants to your location."
It's a solution to a less discussed problem with VR, and one borne of human creativity. Fortunately, solutions are also in hand for the better known problems that we mentioned earlier, though they're more technical in nature. That's where Unreal Engine comes in. "VR in general is challenging regardless of the engine, but our needs were flexibility and consistency," Moore says. "Framerate really is king; failure to maintain a constant frame rate would quickly make players nauseous along with other factors such as input lag."
This was especially important given that The Persistence was originally exclusive to PlayStation VR (a non-VR version has just launched on other platforms including PC via Steam, though this version, naturally, retains its VR support). "We needed to optimise heavily in order to run at a high and consistent framerate on the PlayStation, in addition to considering future platform ports," technical director Chris Roberts says. "Working out a pipeline to achieve this fed into all areas of the game, from the layout of the rooms to the density of enemies the player would face.
"The other key challenge was lighting – lights are still pretty much the most expensive thing you can put into a game. We wanted levels to be procedural and atmospheric in line with the horror genre and game's setting, but we couldn't rely on baked lighting because of the procedural nature of the level generation – you just saw seams where the pieces fit together. So our core tech team wrote an efficient dynamic lighting system from scratch. This enabled us to 'fake bounce' light very efficiently, allowing us to focus fully on dynamic 'hero' lighting, whilst using hundreds of our bounce lights for ambience and atmosphere. We're really happy with the result."
This custom dynamic lighting was built later in development, when the team had become more familiar with Unreal 4, but work on The Persistence began in the early days of VR adoption, and found the studio taking a punt on a new engine. "We originally selected Unreal Engine because of the toolset it provided and the amount of documentation that was available out of the box to both our technical and design teams," Roberts says. "From a design point of view, we wanted to rapidly prototype and validate gameplay mechanics."
Unreal's toolset delivered on exactly this promise, and Firesprite were able to prove their concept quickly and with surety. "The prototyping phase for The Persistence was fairly extended and Unreal's workflow delivers very fast turnaround times using 'PIE' – the Play in Editor – for example," Roberts says. "This enabled us to experiment with lots of ideas very early on."
In the market? Check out the best VR headsets for PC in 2020
Moore adds that this rapid testing facility also helped with balancing as the game reached maturity: "Difficulty curves in roguelike games are purposefully steep and actively trying to kill the player, so we wanted to get that core loop to feel fun and rewarding instead of frustrating, and the fast, iterative, workflow of Unreal allowed us to constantly test, balance
and refine."
Moore echoes the sentiments of many devs we've featured for this series with his praise for the Blueprint system – a visual scripting system enabling non-programmers to contribute to the code base. Blueprints "helped immensely" as designers sought to give every level a handcrafted feel, even under a procedural generation system. "This also freed our code team to concentrate on other areas to keep the game fresh. Fast iteration also helped us with the designing and testing the layout of the environments in the game for stealth and cover-based gameplay and comfort in VR, particularly."
The suggestion that freeform movement and shooting can be achieved in VR without nausea is a tantalising one, even if it means we have to sacrifice the thrills of not only double-jumps and mid-air dashes but, erm, stairs to get there. The intensity of atmosphere that VR can deliver, especially to a genre like sci-fi horror, is hopefully a more than compensatory gain. Has it worked? Give The Persistence a try to find out.
The Persistence is available on Steam now, having launched on May 21. Unreal Engine 4 is now free. Unreal Engine 5 is due to release next year.
In this sponsored series, we're looking at how game developers are taking advantage of Unreal Engine 4 to create a new generation of PC games. With thanks to Epic Games and Firesprite.