The Sims 4 gets a brand-new expansion pack in June that's all about being green. It's called Eco Lifestyle, and alongside a bunch of new features, activities, careers, and goodies for your Sims' homes, it brings a neighbourhood that changes and responds your actions, according to just how eco-friendly you are.
The Sims 4 Eco Lifestyle expansion introduces a special new location to the simulation game's roster of options: Evergreen Harbor. This isn't just any ordinary neighbourhood: it's "a unique new world where Sims have a direct influence on the state of the environment with every decision that they make". If you do your bit for the environment, like pick up rubbish, keep a healthy garden, and use eco-friendly goods to build your properties, Evergreen Harbor will trannsform in response.
Murky waters will clear, greenery will bloom all over the place, and "a shimmering aurora borealis" might even appear in the sky if you work hard to stay sustainable. On the other hand, air pollution will increase, junk will start to appear, ad greenery will fade if you decide not to take action.
In addition, the pack introduces solar panels, wind turbines, and dew collectors so you can harvest your own water and electricity, and you'll also be able to grow your own food from your own house using a new "vertical garden".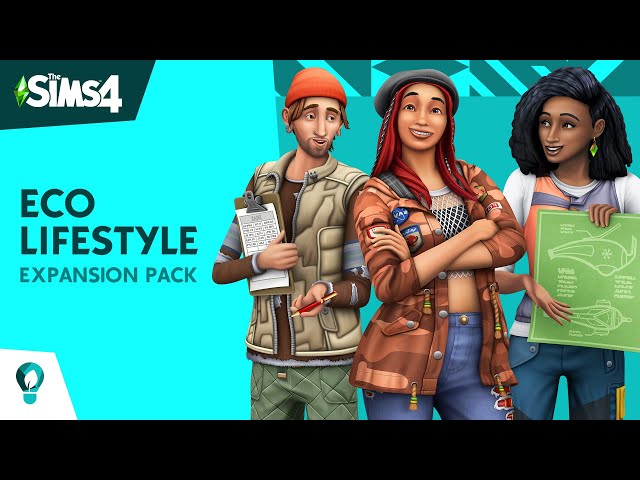 Plus, EA adds, "Sims can decorate their homes with remade furniture, dress head-to-toe in clothes that are sustainably made from reclaimed materials, and even work towards having a living rooftop for a splash of bright colour." And, Sims who aren't too worried about the potential smells can also "go dumpster diving to scrounge up pre-used objects and ingredients to re-purpose for new, creative goods for their home." Sweet!
Green Plumbobs? I'm a big fan! https://t.co/RB54ZtWxGl 💨 pic.twitter.com/gKOR8vdxpu

— The Sims #stayandplay (@TheSims) May 5, 2020
Eco Lifestyle adds a new Community Voting Board to give you people power to effect positive change, as well as new careers, such as civil designer and freelance crafter.
The expansion lands on PC on June 5, and costs £34.99/$39.99.