The Surge's new expansion, The Good, the Bad, and the Augmented, will be released on October 2. Developer Deck13 is taking the sci-fi action-RPG to the old frontier where you'll have to survive the "deadly test chambers" of mad scientist Dr. Rischbieter.
These chambers are set up in an abandoned Quality Assurance lab that was once used to train the deadly technology of mega corporation CREO. The kooky doc must be a massive John Wayne fan as since he's move into the labs he's installed experiments based on "a twisted Wild West TV show."
The expansion's teaser trailer shows a desolate western town where you'll have a tense standoff with what looks like a robot prospector – it's wearing a cowboy hat. As the enemies you'll encounter in the doc's test chambers were once made to test the limits of CREO's technology there will be some fresh metal beasts for you to dodge and stab in the electric core. Better keep on your toes, cowboy. The expansion will also feature 30 new pieces of equipment for you to try out.
The Surge is known for its slow-motion limb targeting system and devastating finishing blows so here's hoping for plenty of pinpoint bullet-time saloon shootouts. The trailer also shows us that your exoskeleton will be decked out with a cowboy hat and matching boots, so maybe Deck13 will bless us with those as in-game exosuit modifiers.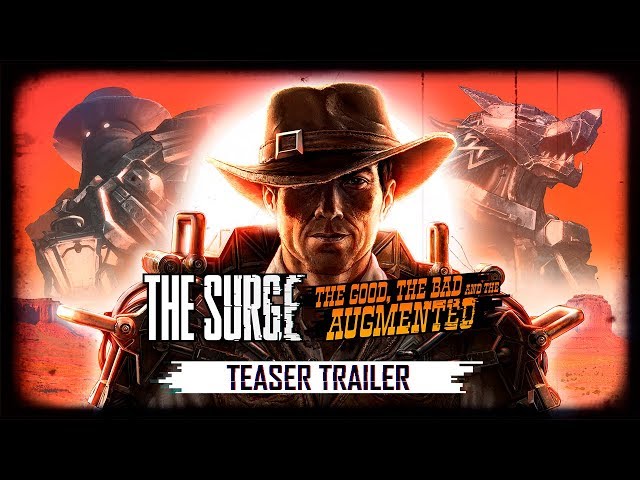 The Good, the Bad, and the Augmented is the second expansion for The Surge. The first one, A Walk in the Park, had you battling through a colorful CREO theme park that also doubled as a death trap.
Read more: Here are the best cowboy games on PC
Deck13 is in full development mode with The Surge 2 so this expansion is a pleasant surprise to tide you over until the new game arrives. The studio announced back in February that The Surge 2 would be released in 2019.