Good news, Total War: Three Kingdoms fans – the strategy game's got another chunky chapter pack on the way loaded with new goodies to get stuck into. Titled A World Betrayed, the new chapter in Creative Assembly's 2019 turn-based strategy epic is a standalone expansion that follows immediately after the conflict of 190CE – focusing on the ambitions of two powerful new faction leaders, Lü Bu and Sun Ce.
That's according to a press release from the studio introducing the new content on the way to Three Kingdoms, along with a dramatic new reveal trailer which you can check out below. Along with two new factions led by "two of China's mightiest warriors of the period", there are 13 playable factions included, "each with new starting positions, events, and story missions".
There are also some brand new battle units on the way, which feature the Flying Riders, Tiger Guard, and Handmaid Guard among the ranks. Plus, A World Betrayed introduces new characters, such as the resourceful military general Cheng Pu, the legendary Qiao sisters – or 'Two Qiaos of Jiangdong' – and more, as well as a free content update for all of the game's players. Sweet.
Take a look at the Total War: Three Kingdoms – A World Betrayed reveal trailer below: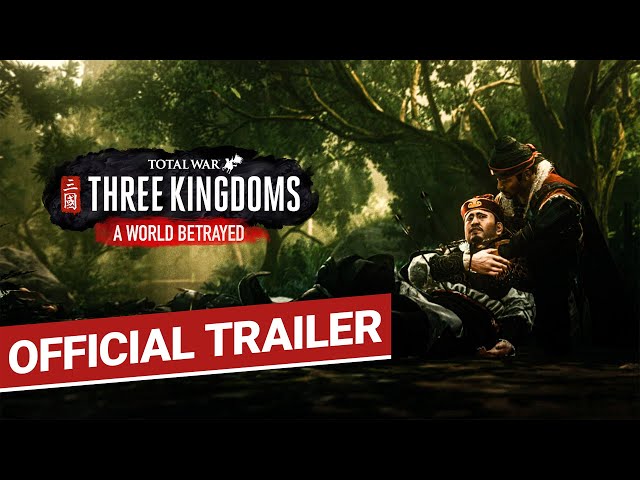 The studio introduces the chapter's narrative with the theme: "All sons are born in the shadow of their fathers". In the north, "The tyrant Dong Zhuo has fallen to the blade of his adopted son, Lü Bu – a fierce warrior hellbent on defeating the great heroes of China," the press release reveals. In the south, meanwhile, "Sun Ce mourns the death of his father, the noble Sun Jian, and pledges his life to continue his father's legacy. The day has come where they must stand alone, the future theirs to take…"
A World Betrayed arrives March 19, and you can grab it on Steam here – with a 10% discount if you pre-order it. Be sure to take a look at our Total War: Three Kingdoms review, too, if you're yet to jump in and want to see what's in store.