Following news that a new type of DLC called Chapter Packs would be heading to Total War: Three Kingdoms, it looks like the first one is on the horizon. Called Eight Princes, the standalone campaign looks set to bring a raft of new content for you to get your teeth into – and luckily, you won't have too long to wait.
Announced today in a press release, and with some details on the Total War: Three Kingdoms website, the Eight Princes Chapter Pack is set a century after the main Three Kingdoms story, in the Jin dynasty. As its title suggests, the DLC introduces eight new playable princes who are fighting it out in a civil war threatening to engulf the Jin Empire.
Each prince has his own set of specific campaign mechanics, adding a different approach and flavour to combat depending on which you choose. You can check out a detailed rundown of these on the Eight Princes Steam pre-order page, but highlights include Sima Lun, the "Usurper Prince" who thrives on deception and espionage, and whose specialities include a Subterfuge unique faction resource.
On the other side of the coin you have Sima Wei, the "Tempestuous General", whose resource is Fury. He's a big fan of "aggressive expansion", as you'd probably expect from his description. Each prince fits into Total War: Three Kingdoms' five core character classes.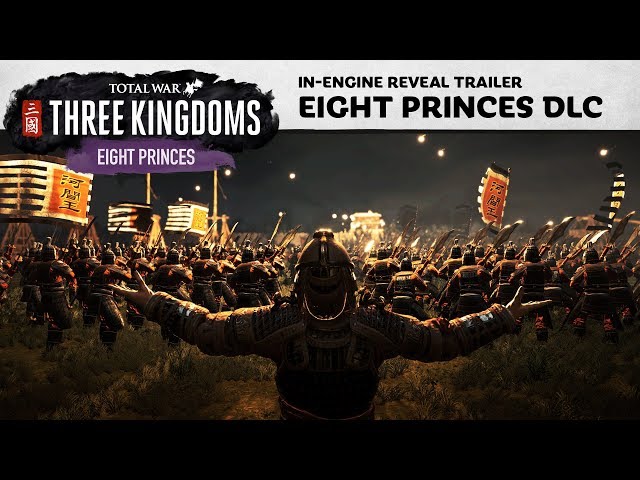 In addition the pack also brings new elite units, such as cataphracts, mounted archers, and imperial guardsmen, plus four new alignments to help you shape your faction: Might, Wealth, Mind, and Spirit. If you're keen to get an idea of what the DLC will offer, check out the Eight Princes reveal trailer above – the tension between the eight princes chasing down glory for themselves is palpable. How will you choose?
Read more: Check out the best strategy games on PC
If you're keen to choose your prince, get stuck into the civil war, and claim the Jin Empire for yourself, fortunately the release is only a few weeks away. The Eight Princes Chapter Pack is due to drop on August 8 – and you can pre-purchase it on Steam right now. There's even a discount of 10% if you order it before the release date.