Creative Assembly has announced that Total War: Three Kingdoms will be released for Windows on March 7, 2019. A Mac and Linux version will be available shortly after and is made by Feral Interactive. This Total War title is the first in the series to explore the history of Ancient China.
The game's timeline starts with the tyrant Dong Zhuo dead and his throne up for the taking. This is the catalyst for a battle between three heroes who are rallying support. Players can control one of the 11 factions who must enter this fight if they wish to become China's dominant ruler.
Creative Assembly has a free Early Adopter bonus DLC called the 'Yellow Turban Rebellion' for fans who pre-order the game, or buy it during the first week of sale, from a Sega-approved retailer (there's a list) . The 'Yellow Turban Rebellion' is a Warlord pack that introduces three new playable warlords for the Grand Campaign.
The DLC also includes a new unit roster of religious and spiritual warriors and three new hero classes – Scholars, Healers, and Veterans. There are also new character virtues and skills built around the three beliefs of Taoism: frugality, compassion, and humility – not sure how they're going to fit them into a game about war and destruction, but hey. Check out the artistically lavish trailer below.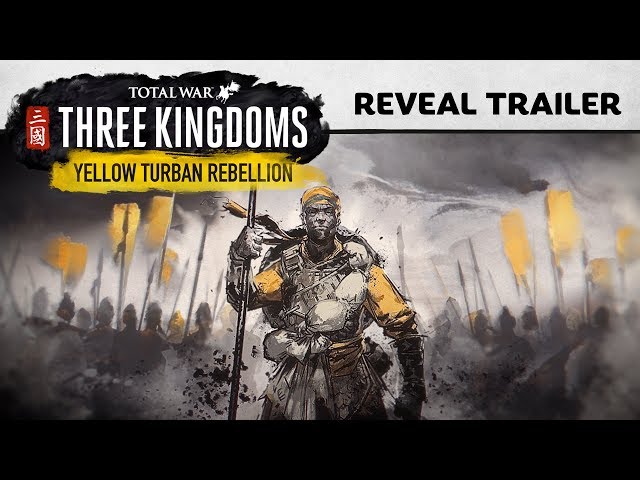 There will be three versions of Total War: Three Kingdoms available on release day – digital editions, a limited edition, and a collector's edition. The limited edition comes in a case with watercolour box art plus a double-sided poster of the campaign map, which features China's geography and, on the flip side, a warlord character and playstyle sheet.
The collectors edition comes with those two items and also a 24cm resin statue of legendary hero Guan Yu and an art book that delves into the likes of the landscapes, character concepts, and building designs of the game.
Now that we know the Total War: Three Kingdoms release date, get up to speed with all the latest details on the next historical installment. Also check out how spies can start civil wars in Three Kingdoms and our interview with the game's senior design and game director about how what the game's classic mode changes.