Total War: Three Kingdoms' Mandate of Heaven was a brilliant expansion, introducing new factions and a whole new prologue period to the dramatic conflict engulfing China.
To properly embed this period, the DLC introduced a new 'timeline' feature, with time-based start positions for the game's main campaign. It might seem unassuming at first glance, but in terms of its implications for both Three Kingdoms' future DLC and perhaps in other Total War series, it's big. Consider, if you will, how such a feature could allow for the exploration of other historical periods? Or even be implemented in Total War: Warhammer?
Total War games have always been about making things bigger: campaign maps, armies, battles, and sieges. But rarely have they been about making things longer, which is strange when you consider that, for the most part, these are historical games. It makes perfect sense that the way to expand a game about a specific time period is to explore the events that occurred before, during, and after it. This is the approach that Mandate of Heaven is taking, using chapter packs to include famous historical events that occurred during the period, but more importantly, placing them along a single grand campaign timeline.
"The Three Kingdoms period is packed with era-defining battles and cut-throat diplomacy," Mandate of Heaven's lead designer Attila Mohácsi says. "Focusing on specific chapters outside of the main conflict allows us to highlight these pivotal moments and offer them as entry points to our players, all whilst providing greater agency to their gameplay experience.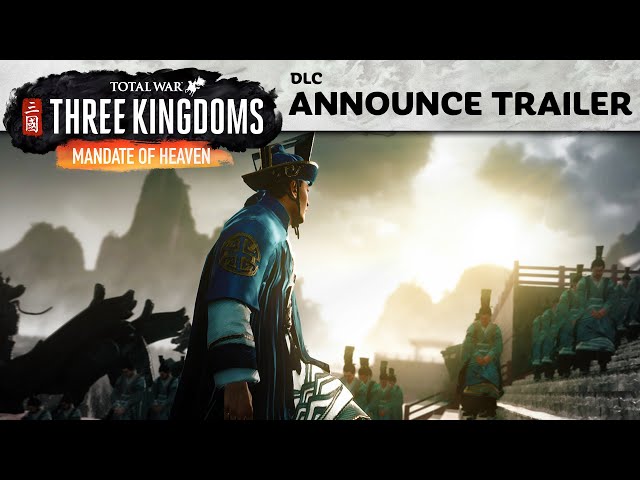 "We feel these play to the strengths of Total War, as they provide players with the ability to both challenge their perception of the period, as well as their skill in surmounting ever-changing campaign scenarios. All in all, the hope is that players create their own unique slice of history with no one playthrough feeling the same as before – something from which we get a great deal of excitement!"
As Mohácsi puts it, the Three Kingdoms period is defined by "larger-than-life characters" and "intense conflict," but this could also be said for another popular Total War series. Three Kingdoms and Warhammer have a lot in common — both contain a fair chunk of fantasy while also telling the stories of ambitious characters, as well as the rivalries, fragile alliances, and betrayals that occur between them.
The original Total War: Warhammer begins with the election of Emperor Karl Franz, theoretically placing it in the year 2502, but it and its sequel have defied the timeline of the lore upon which they are based for some time now. The introduction of of Joan of Arc wannabe Repanse De Lyonesse, who lived about 500 years prior to Karl Franz, is only the most recent example of this.
For more cunning schemes: See the best strategy games on PC
These inclusions have always been readily forgivable, as they allow all of the best Warhammer races and characters to share the same moment in time and battle on the same stage. But even stretching the lore, some legendary characters that Creative Assembly might want to consider including in the future would be so egregious to accommodate – Vlad and Isabella von Carstein can come back because they're undead, I suppose, but how would Gorbad Ironclaw be possible? Or Aenarion the Defender?
Three Kingdoms' timeline and chapter packs is one answer – a means of exploring events outside the core campaign. "We started viewing the process as if you were turning page in a book and going through all of its chapters, with each additional piece of DLC focusing on new areas of the story and giving players the opportunity to experience a more focused campaign which delves into one intense excerpt of the wider conflict," Mohácsi says.
"The chapter packs provide players with a great opportunity to control the exact part of the Three Kingdoms story they would like to experience, whether it be the entire conflict spanning decades, or the intense flare-ups which occur outside the events of the main campaign."
Imagine how Total War: Warhammer could utilise this idea. We could see a chapter pack set during The War of the Beard, showing the events which established the hatred between dwarfs and elves, and Malekith's betrayal of Snorri Whitebeard (Grombrindal). It could let players step into the shoes of Aenarion during the first and second Chaos incursions, exploring his journey in taking up the Sword of Khaine and cursing his bloodline in so doing. It could even be during the Great War Against Chaos, following Magnus the Pious as he united the Empire in saving Kislev. Just like Three Kingdoms, all of Warhammer's events affect each other, every one of them important in understanding the intense rivalries between its races, driving its characters, and even how its world came to be.
Of course, there's more urgent work to be done, and that's Total War: Warhammer III. But once that game introduces the final missing factions, this combination of chapter packs and a timeline could be a great way of including even more of the iconic characters and events that are so far out of reach of the current, timeless state of the Total War: Warhammer world, potentially extending the series many years beyond the release of what is expected to be its final full game. For now, at least, we'll have to see how successfully the mechanic plays out in Three Kingdoms. But according to Mohácsi, that may be just the beginning:
"Our plan remains to focus on the most significant parts of the conflict and continue to provide the playerbase with an array of starting points that hold up as their own unique mini-campaigns, or as part of the wider sandbox experience. We're delighted with how Mandate of Heaven resonated with the community and can't wait to show off some of the content coming later in the year."