A new Tower of Fantasy Alyss showcase video demonstrates the new character in action, and gives frost mains plenty of reasons to be excited for Tower of Fantasy update 2.3. The upcoming character arrives very soon, giving fans of the open-world anime game another simulacrum to roll for, and her skills, advancements, and interactions make her the perfect addition to a frost team and a great pick for free-to-play players.
Honestly, it only took a quick glimpse at her stylish high-kicking playstyle for me to be sold on Alyss, but looking through the list of Alyss weapon effects, advancements, and skills gives plenty of reasons to be excited about her potential. The new showcase video also does a great job of giving you some great character lineup recommendations if you're looking to build around Alyss or add her to an already-existing team.
Alyss brings a great variety of combos with her Swan Arc and Sweeping Combo strings, and her Sweeping Dive is a nice divekick to close in on enemies from above. Her Waltz attack gives her temporary hyperbody, making her immune to crowd control effects, as does her Dancing Flash combo – the latter of which also offers its own control in the form of strong suspension. In addition to this, using weapon skills or spending four seconds in Alyss's Latent State will make her immune to damage during the next Dancing Flash combo.
Dodging with Alyss puts her into Dance Form, where she can deal heavy damage and lock down foes with a combo attack. You can also hold dodge to enter Latent State, transforming Alyss into a fast-moving butterfly that explodes upon returning to her regular form, dealing damage and freezing nearby enemies for two seconds.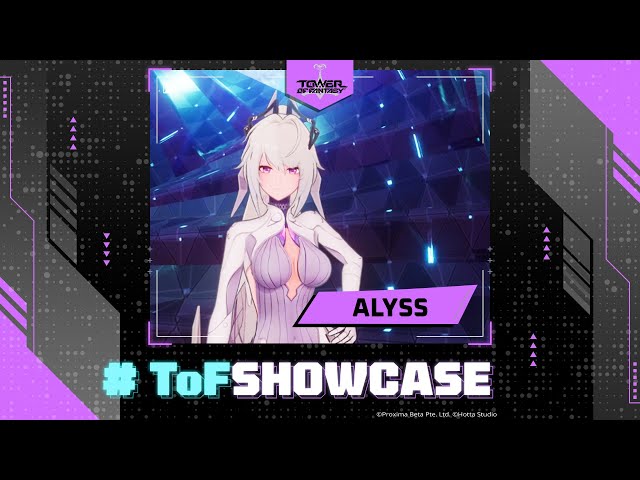 The real shining star of Alyss's arsenal is her skill, Chilling Field. This pulls in nearby enemies and strongly suspends them in a Chilling Field that lasts for 30 seconds. This area enhances frost weapon discharge skills and speeds up the movement of Alyss's Latent State, as well as applying a buff called Spatial Slice after landing 12 hit effects with her Unyielding Wing weapon in the field. Spatial Slice will deal damage to all nearby targets every two seconds, and lasts for 25 seconds or until the field disappears.
Combining perfectly with this is Alyss's 1-star advancement. When using a frost weapon skill in the Chilling Field, Alyss will be summoned to both cast her discharge skill, Starry Night (which offers damage, suspend, and immunity while casting as well as clearing debuffs) and also recast the weapon skill that triggered the ability. This will also count towards activating any other effects you have that activate from discharges.
Alyss's ability to gather enemies together is an incredibly welcome boon for frost mains, as their teams often struggle to do so with the current lineups. Her strongest combination skill being available at just a 1-star level also means she's an excellent pick if you're someone who isn't looking to spend money, as it's quite easy to get and will make a dramatic impact on the effectiveness of your team's rotation.
As for how to pair Alyss up, Lin and Saki Fuwa are great picks – the latter offering her weapon skill cooldown removal at 1-star, which pairs nicely with the Chilling Field. The extra Hoarfrost damage offered by using Frost discharges in Chilling Field are great with Saki Fuwa's Surge, and also pair nicely with Tsubasa's short cooldowns if you favour playing with her. Hotta also offers some suggested lineups, though notes in the video's comments that the Lin team should display Lin and Sobek's matrices (not Meryl's).
We'll see how her final form stacks up in the Tower of Fantasy tier list when update 2.3 arrives. In the meantime, check out the upcoming Tower of Fantasy banners to see when you can get your hands on Alyss and other characters. We've also got more of the best open-world games, along with even more great free games on PC for you.