The Valve Index is shipping today to the lucky few who successfully pre-ordered the brand new virtual reality setup created by Valve. And the company hosted a launch party last night for select customers as well as the creators and their families where Gabe Newell had a few words to say about the next steps on its VR journey.
"In our history at Valve we have had a lot of significant milestones," said Newell, referencing Half-Life as its first single player game, Source as its first engine, Counter Strike as its first multiplayer title, before reeling off Steam, Workshop, and ARM, mobile, Mac, and Linux support too. "Index is another one of those critical milestones for our company."
The fact that Gabe Newell is talking about the Index release being as significant a chapter in the history of Valve as that of Half-Life and the Source engine shows how much faith and import the company is putting on its new virtual reality kit. And from our time testing the headset and Knuckles controllers over the past month, we can see why. It's simply the best VR experience around right now.
It's not just the improved optical experience driven by the improved lens, higher resolution display, and advanced panels of the headset either, because the new finger-tracking Knuckles controllers are just as important to the advancement of the VR experience.
Not just VR: These are the best PC controllers around today
"Knuckles is hugely important," says Newell in a video from the launch party posted to Reddit, "not only for how it's going to help ourselves and our game partners make their games better, but how it enables entirely new types of games."
We're yet to see any of these new kinds of games, but even just the joy of the Aperture Hand Labs experience, created to demonstrate the potential of the Knuckles controllers, shows there is much more to come from the immersive new interactions they make possible. And we can't wait to see what new Valve VR games the company develops to go with its new virtual reality system.
But as much as we love the Index for the new stuff it brings to the VR party, we don't quite see it as the next generation of virtual reality. It's higher-fidelity, slicker, and offers more potential interactivity, but right now the ecosystem around it means that it doesn't feel like a real step change in the market.
It's still tethered by a hefty cable from the headset to your PC. It needs to be wired into your machine via the display connections as well as USB sockets, and still needs to be powered from a wall socket too. And it also needs to have base stations arrayed around the play area in order for the headset to know where it is at all times.
But Valve has big plans for the future of Index, the next-gen Indices, if you will. Yeah, that's Gabe's preferred term for multiple Index sets.
"There are some obvious next steps," says Newell. He then points to simple ways for it to improve global distribution, lower the costs of the kit, make it lighter, and improve the ergonomics, but there are some more interesting plans afoot too which will make it truly the next generation of VR.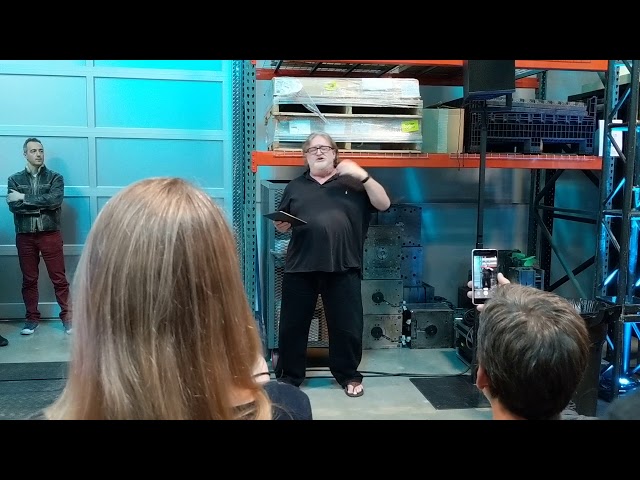 "We are looking at several methods of doing untethered Index," he continues, "we have a lot of ideas for kind of revolutionary things to do with the display and optical technology."
The future looks a lot brighter for VR with Valve getting increasingly serious about the ecosystem it helped foster with the initial Vive and Steam VR steps. Let's hope Gabe and Co. continue to push things forward. And who knows, maybe its third VR headset will have another third installment accompanying it on the software side too…
Join the conversation about Valve's new Index kit and comment on this article's Facebook and Twitter threads.