Since its initial worldwide release in 2013, War Thunder has brought people together from all over the world to participate in highly accurate naval, aerial, and ground-based battles. Frequent updates are nothing new for War Thunder, and this time around Gaijin Entertainment has outdone itself. Fans of the military MMO game have plenty to sink their teeth into with the new 'Danger Zone' update that contains heaps of content including brand new vehicles, locations, and weapons.
'Danger Zone' brings a long list of fresh vehicles, as well as the addition of napalm that sticks to an entire area for up to one minute, slowly destroying any lightly armoured or open-topped vehicle in its path.
We've also been treated to improved graphics; smoke trails for missiles as realistic effects for shells hitting surfaces. Tracer rounds have been polished, and an overhaul of TAA has helped brighten up and smooth out the entire look of the game. We've also had some more quality of life improvements, with the aircraft heads-up display being streamlined and a lot clearer.
Plus, the damage cam for the ground forces will now make it easier to see which critical components are damaged.
The F-14A
The biggest change that has come with the latest update is the addition of the top-tier US naval aircraft, the Grumman F-14A Tomcat, featured in Top Gun: Maverick. The F-14A will mark the first time that a fourth-generation aircraft has featured in War Thunder, a machine that has been highly anticipated for some time. This twin-engine fighter jet is equipped with new, powerful air-to-air missiles, and has impressive controllability. It achieves this due to its variable-swept wing design, allowing for more efficient turns and reduced drag at higher speeds.
The F14A is powered by a pair of Whitney TF30-P-412A turbojet engines, capable of providing a maximum speed of 2,200 kph, and a climb rate of 200 metres per second with minimal weapon loadout. The only downsides to the F-14A are that it can be a relatively easy target to hit due to its large size, and the excessive heat from the engines can make it easier to track down than other current top fighters. However, few other aircrafts can make you feel as heroic as Maverick.
New locations and missions
The 'Danger Zone' update brings a couple of new battle-specific locations. The first is the Abandoned Town, for mixed battles, and the second is the South-Eastern City, exclusively for air battles. Several existing locations have been reworked, improving small details to the visuals. These include Sun City, which has been given improved detalisation, and a pass through all three capture zones, the houses in 'Poland', and White Rock Fortress will be reworked also. Several missions have been renamed and reworked into separate missions, with capture points placed closer to the respawns, instead of the area edges of the missions.
New vehicles
There are many new vehicles coming with this update; every nation in the game is getting something interesting, with over a dozen new ground vehicles making their way to the game.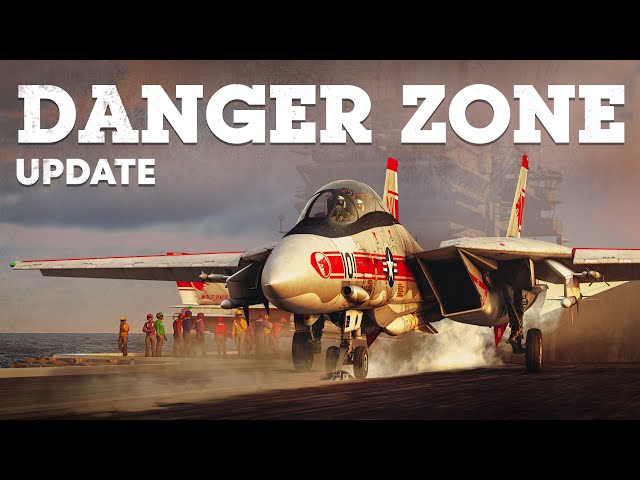 Coming to the US is the M1A1 AIM battle tank, a machine with incredible optics, protection, and high mobility. France gets the VCAC MEPHISTO anti-tank missile carrier. With its extended launchers that allow it to fire from behind shelter, and its thermal vision, this tank is sure to mix things up as the first tank of its kind in this nation's research tree.
China's top MBT, the ZTZ99A, is also making its way to the game. This impressive model offers improved turret protection, with greatly enhanced mobility and firepower. The German Leopard 2A4 comes outfitted in camo netting and is heavily armoured, with a more protected turret than its predecessors. Also coming to 'Danger Zone' is the South African G6 Rhino which boasts a 155mm cannon and the Italian Lancia 3Ro truck. The latter fires an early type of HESH round and is created by players, for players. Despite the obvious exposure issues and poor mobility of the vehicle, it should be a fun one to take your chances in.
Fresh additions to the naval fleet include the new crowning jewel, the British HMS Hood Battlecruiser, the most advanced battlecruiser ever built for the Royal Navy. Its superior firepower and exceptional mobility make this the perfect warship available to British captains. Other notable warships include the German SMS Bayern, and the Japanese JDS Ayanami (DD-103).
There is also a wide selection of Israeli helicopters available, and the Chinese Z-19E which is an export model of the Z-19. This updated model benefits from a wider use of composite materials that help reduce the maximum take-off weight of the vehicle. The Z-19E also features improvements in piloting safety, and a number of suspended weaponry options including air-to-air and air-to-surface missiles.
War Thunder's 'Danger Zone' update is available now, and you can download and play the game for free by signing up for a Gaijin.net account on War Thunder's official website. War Thunder is available on PC, PlayStation 4, PlayStation 5, Xbox One, and Xbox Series X/S.