Warframe is now officially seven years old (although that number might be bigger depending on how you're counting), and as part of the celebration, you can earn a special armour set by playing throughout March. Every weekend offers special rewards as part of the anniversary party, and you can earn rewards from previous celebrations as well.
The new Dex Raksaka armour is available to players who log in and play during the celebration. Each weekend throughout the month, Warframe is offering additional rewards in the form of accessories and weapons tied to the Dex Raksaka set. This weekend, Anniversary Alert 1 awards the Dex Furis dual pistols, the Dex Nouchali Syandana, and a weapon slot. You can log in and play to earn the rewards until March 9 at 14:00 EDT / 16:00 BST.
From March 13-16, play Anniversary Alert 2 to earn the Dex Dakra sword, the Excalibur Dex skin, and another weapon slot. Anniversary Alert 3 is available March 20-23, and offers up the Dex Sybaris rifle, an Excalibur Dex noggle, and another weapon slot. The fourth Anniversary Alert will be the last weekend of the month, March 27-30, during which you'll be able to pick up the Excalibur Dex in Action glyph and the Liset Dex skin.
The anniversary video shows off the Dex Raksaka in action, and provides a whirlwind of highlights from the past seven years of Warframe.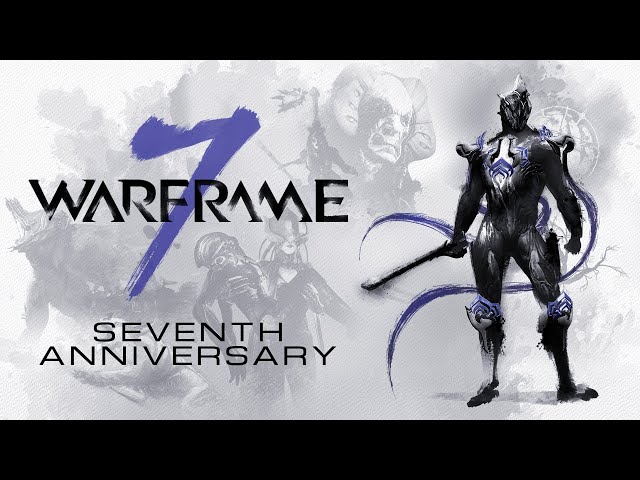 If you haven't dropped into Warframe for a while, you might want to get caught up on what's happened with the latest patch, which just launched this week. Warframe Revised makes a ton of quality of life changes – including a major reduction in cost for Railjack construction.
You also may be interested to know what Digital Extremes has planned for Warframe in the coming year. There's plenty more content on the way, plus the annual TennoCon celebration.