Fatshark has just announced the first DLC for Warhammer: Vermintide 2. It's called Shadows over Bogenhafen, and it's coming out on August 28. Players will head to the eerie city of – this part's obvious – Bogenhafen, a merchant city on the river Bogen.
To judge by the trailer and screens, you'll take your trip on a night when the Chaos Moon Morrslieb is hanging especially low in the sky. Why would you do that?
"We are kicking off the fall with more content to Vermintide 2" Martin Wahlund, Fatshark CEO, says. "In the last week of August, players will be invited to Bogenhafen, a city where the heroes will be tested like never before by Grandfather Nurgle's unpleasant attentions"
Grandfather Nurgle, otherwise known as the Plague Lord, Fly Lord, Master of Pestilence, Lord of Decay – you get the picture – is the Chaos God of disease, decay, death, entropy, despair, and plenty more. He is sure to have plenty of disgusting pus-ridden trials in store for weary adventurers wandering into the city of Bogenhafen in search of more co-op rat-slaying.
Warhammer: Vermintide 2 launched back in July as the sequel to the popular Left 4 Dead-esque first-person co-op, Warhammer: End Times – Vermintide. Throughout the game, teams of four adventures find themselves stuck in rather unsavoury situations in which the only option is to mercilessly slaughter hordes of oncoming Skaven until you reach safety. It's a lot of fun.
A brief teaser trailer has been released. The 30-second clip depicts celebrations and fireworks over the rooftops of the city and ends with the release date: August 28.
Here's the teaser for your viewing pleasure: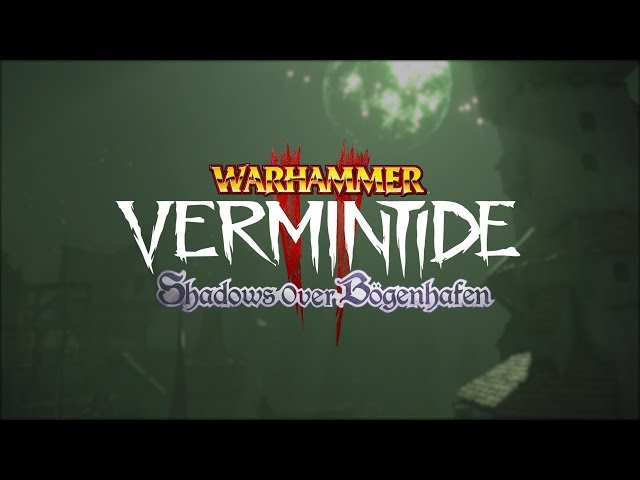 Warhammer: Vermintide 2 – Shadows over Bogenhafen will be coming to both PC and Xbox One on August 28, with the full breadth of the new DLC being revealed closer to that time.