Lots of Wild Hearts gameplay is being shown off for EA's upcoming monster hunting RPG game as we get close to its release date. The Monster Hunter rival's arrival is imminent, and several gameplay demos show off hunts in action while a new story trailer gives us a stylish look at the struggle between the game's giant beasts, the Kemono, and the hunters wielding a mysterious ancient technology called the Karakuri.
The Wild Hearts story trailer, titled 'Tame a World Gone Wild,' shows off the struggle between the hunters and the Kemono. It features glimpses at several of the Wild Hearts monsters that you'll be tasked with fighting, and showcases some of the Karakuri tools and traps in action. Perhaps the highlight is seeing a hunter, moments after their monocycle roller crashes into a snow drift, whip out the umbrella-like Bladed Wasaga as a humongous wolf bears down upon them, fangs bared.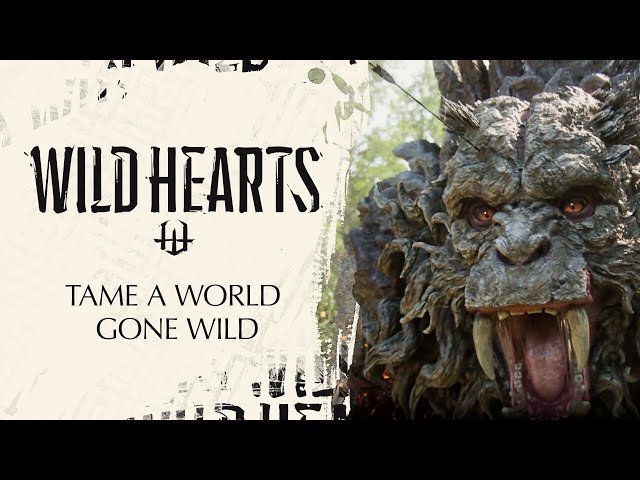 We also get a look at some hunts in action courtesy of a fifteen-minute gameplay demo from PlayStation Japan, and a look at the Nodachi, a hefty greatsword, and the hammer-like Maul in action courtesy of YouTuber Watts 'Ms 5000 Watts'. The latter also shows off the Tsukumo – small companions that act much like Monster Hunter Palicos – in action, with one using a healing mist ability to keep the hunter's health topped off mid-fight.
The PlayStation Japan hunts, meanwhile, give us a nice glimpse at features including some crafting, the armour and equipment screens, the weapon tree and skills, and food buffs. While the video is in Japanese, you can get a good feel for how these systems will play out. Weapons appear to have both built-in skills and ones inherited by upgrading, while food appears to apply buffs including bonus health, attack increases, and elemental resistance.
Five different elements are shown on the menus. These include fire and water, an icon with a leaf (perhaps poison, which was previously mentioned), one which is likely ice, and another that could be an earth or physical resistance. As mentioned during the recent Reddit AMA where it was confirmed that Wild Hearts will have free DLC after launch, armour can be altered to shift it in a more human or Kemono focused direction, with stat alterations coming into effect alongside these changes.
We also get a good look at the radar Karakuri, which is a structure that can be deployed to show nearby Kemono on the map. You can then select them from the menu to track the monster with an in-game trail reminiscent of the scoutflies in Monster Hunter World. The trail will follow the shortest route to your target, making it easier to pursue them if they break away from a fight and re-engage while they're recuperating.
Wild Hearts is looking great, and seeing more of it in action definitely has me more excited as a fan of the Monster Hunter series, as well as other similar game's such as Dauntless. It's certainly a big crown to come for, but I'm eager to give it a shot and find out for myself if they've managed to pull it off.
The Wild Hearts release date is February 16 on Steam, the Epic Games Store, and the EA Play Store. Subscribers to EA Play (also included in a Game Pass Ultimate subscription) can play the game for ten hours before launch from February 13.
We'll be sure to keep you up to date on all the latest news as it comes – make sure you're ready for launch with the Wild Hearts system requirements. In the meantime, take a look at more of the best co-op games on PC to enjoy with friends, along with more of the best games like Monster Hunter if you just can't get enough of facing off against the biggest, baddest beasties.