World of Tanks has a very special occasion coming up this year. It's the tank game's tenth birthday! To celebrate the anniversary, developer Wargaming is kicking off a four-month – yes, four-month – event starting this week, featuring "several exciting thematic activities, throwbacks, and missions" – with a big finale event in August.
As announced in a press release, these celebrations will be come to the game as a series of "five thematic Acts", the first of which launches this week, on April 22 at 06:30 UK / 01:00 ET (April 21 at 22:00 PT), and continues until May 18. Each act corresponds to a specific "milestone" in the war game's decade-long history.
Act number one is titled 'Battle!', according to a clip introducing the event (which you can check out below), and includes content celebrating 2010-2011 in the game, such as 'Archives' that players unlock as they play, 'Time Warp episodes', "new customisation elements", and some "unique rewards", too. The first week of each act marks the "active phase period", which offers anniversary missions of increasing difficultly, which you can play in both the Random and Grand Battle modes.
Complete these, and you score 'anniversary coins', which you can use to purchase in-game, anniversary-themed customisation goodies, along with directives and personal reserves. Plus, as each act arrives, three new vehicles with "unique exteriors" will hit the game's store, too.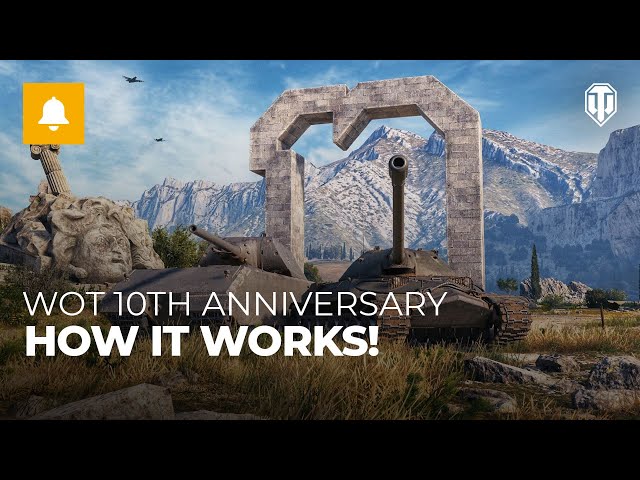 Curious to know what kind of "unique exteriors" will be featured? Find the 2:41 mark in the clip above and you'll see a tank that appears to be themed after a certain naughty goose.
Complete the whole 'chain' of active phase missions for each act, and you'll get an "evolving" special reward, as well as a gold key – three of which will earn you a "unique 10th anniversary reward": an "exclusive 3D style for a Tier IX vehicle". The studio's keeping its cards close to its chest on exactly what this might be right now, though.
Act I of World of Tanks' #10thAnniversary celebration starts tomorrow and we have all the details you need below.

What are you most excited about?https://t.co/eaa6qAR5a9

— World of Tanks (@worldoftanks) April 20, 2020
In addition to these missions, there are various other "unusual" events to get stuck into, as well as the return of 'General Chat' to Random Battles for a limited time and more "surprises" to discover later in the event.
For more details on the multiplayer game's 10th anniversary event, head to this post on its website, and get ready for the first act, which launches tomorrow.