World of Tanks has been around for over a decade, but in that time the free-to-play military MMO has cemented itself as one of the best tank games of all-time and it remains popular and relevant. Not only does the game have over 160 million players roaming its battlefields, but it also receives regular updates that keep it feeling as fresh as it did ten years ago.
While World of Tanks has an extremely enthusiastic fanbase, you don't have to be a military strategist to join the fun. Behind all the tiers and the endless numbers of carefully differentiated vehicles, the premise at the core of World of Tanks remains simple and accessible: work as a team and crush your enemy. And yet, though Wargaming's hit MMO is easy enough to get into, there's no doubt of its great depth and breadth after all these years.
If you're the kind of player that likes to stand out from the crowd, you'll be pleased to know that World of Tanks features over 600 vehicles. Each tank will let you wreak carnage in style and contribute to a unique role during combat. Surprisingly, the game's tank categories match up relatively well to traditional MMO playstyles, meaning if you're more DPS player than, well, a tank, you should feel right at home.
Diverse gameplay modes and mechanics
It's needless to say that we all enjoy different things as players, and World of Tanks caters to a wide variety of gaming preferences. If you're something of a lone wolf, it's completely possible to act as a one-person army in World of Tanks. The game's PvE training mode also means that you'll be able to get to grips with the basics before delving in.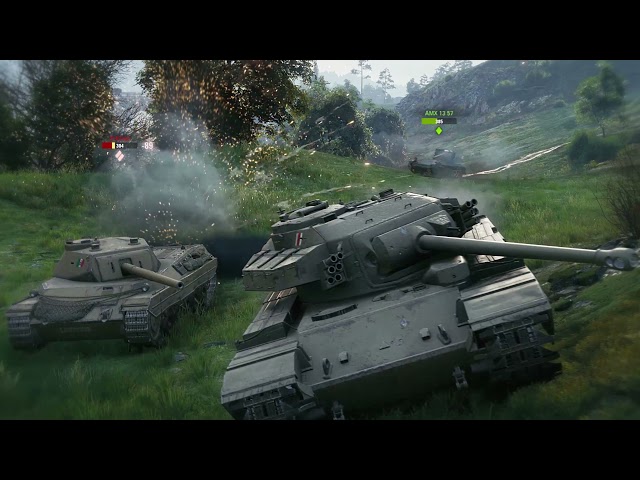 However, if you enjoy the thrill of team-based combat, you can also squad up in teams of three, either with friends or by using the game's platoon finder. In World of Tanks, teamwork doesn't just make the dream work; it's also an opportunity to earn credits and XP. Regularly playing as part of the same clan also comes with perks, like unlockable vehicles and access to new modes like stronghold battles, which essentially adds a strategy builder element to the experience.
Naturally, World of Tanks also has a competitive scene, and its commitment to daily solo and team tournaments keeps players coming back for more. Notably, World of Tanks' recurring Clan Rivals competition allows squads to battle it out for prizes. If you enjoy the buzz of knowing you're the best of the best, you can also attempt to ascend the leaderboard in the game's limited-time 'ranked' mode.
Impressive visuals and optimisation
World of Tanks is anything but a newcomer to the scene, yet this MMO is still a visual-heavy hitter. Sure, aesthetics aren't everything, but World of Tanks has done its utmost to ensure it moves with the times. In fact, thanks to a 2018 overhaul, the game now has a graphics engine with new lighting effects and ray tracing capabilities.
Of course, while fidelity enthusiasts will appreciate World of Tanks' graphical prowess, not everyone has an RTX GPU in their rig. Luckily, as well as embracing the future of gaming PC technology, World of Tanks has been optimised to provide the smoothest experience possible for players with older setups. Therefore, even if your PC is a bit long in the tooth, you'll still be able to join the fold.
Player input into future features
It's important to note that, unlike some MMOs, World of Tanks is heavily influenced by its players. By fleshing out upcoming features and testing them out on the game's sandbox server, fans can ultimately decide what mechanics and modes make it into the game next. As you can imagine, this process of directly including players adds an extra layer of significance to World of Tanks, meaning that to some fans, it's more than just another online videogame.
World of Tanks will no doubt continue to expand and evolve, and its dedicated playerbase will no doubt be at the helm of its future endeavours. It's easy to see why players stick with World of Tanks, especially considering its diverse gameplay mechanics, continuous updates and improvements, and development processes that directly involve fans. By continually refining its core mechanics and providing support across the board, Wargaming has crafted a reliable experience that will entice newcomers while also catering to its regulars well into the future.
Head to the World of Tanks website for a handy beginners' guide to the game and to start playing for free.