A new WoW mount designed to celebrate the Lunar New Year has bounced into Blizzard's iconic MMORPG. Given that this year is the year of the rabbit, this adorable World of Warcraft creature is a must for avid fans of all things cute and fluffy.
Entitled 'Jade, Bright Foreseer,' the 2023 Lunar New Year mount is, indeed, a huge spectral rabbit. Sporting huge ears, an ornamental gold and green harness, and a red necktie, it bounds across the vistas of Azeroth in style.
Also, did I mention that it's carrying two little baskets of carrots? If you didn't want it before, you had better want it now.
You'll also be able to pick up the 'Hoplet' pet, a tiny little bunny also adorned in red and gold fabric with a huge aquamarine gem on its head. Note that this pet is only available to WoW Wrath of the Lich King Classic players – it is not coming to retail.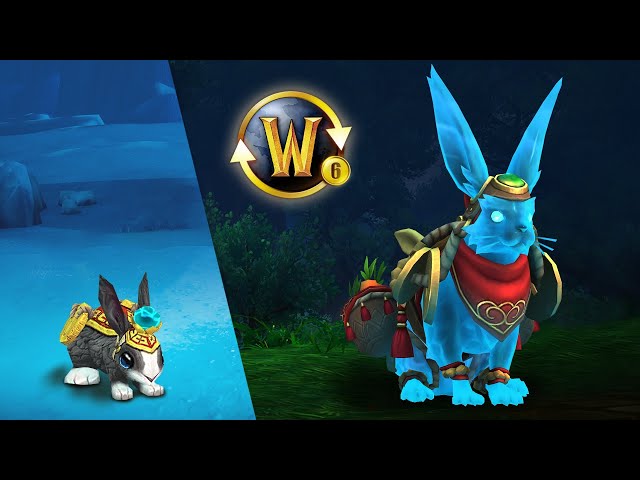 You can get the World of Warcraft Lunar New Year mount by buying a six month WoW subscription.
If you buy a 12 month subscription it will also be added to your inventory, and if you are currently on a yearlong plan you'll receive it, too.
If you are already subscribed for six months and your account is set to auto-renew that subscription, you'll also receive both the mount and the pet.
While I do love the Wen Lo mount from last year, and even the gold-plated Lucky Yun from 2021, 2023's iteration has knocked it out of the park. The adorable little bounce animation is a welcome change from simple running or reptilian waddling, and the fact that it continues to hop when you fly is perfection.
If this mount has enticed you to buy a new subscription, then check out our WoW Dragonflight review to let you know what to expect. We also have a list of the best WoW addons to make your journey a little easier, and a WoW Dragonflight tier list if you're looking for a fresh start.