Wrongworld is a sandbox game driven by randomness. That means no two players will have exactly the same stories to tell, but, somehow, there's a laugh in the same place in every first session.
It comes when players go to chop down a tree without any tools, hit the right mouse button, and find that in the absence of an axe the avatar uses his forehead – thwacking his furry skull into the trunk until the bark comes apart.
"All the 3D survival games that were coming out were very grim, realistic, and the graphics were gritty," lead developer Jamie Coles tells us. "Part of the appeal of Don't Starve to me is that it's a bit silly, and I decided to run with that for Wrongworld."
Wrongworld is winning over players on Steam and at events by taking the familiar structure and routine of survival games and infusing it with the kind of daftness and surreality that can shake you out of the familiar. It's so thoroughly wrong that it feels right.
Coherence through incoherence
Coles once went to university to learn how to make games. But then he left the games industry for a while to do sensible work, and when he came back he felt as if he was starting from scratch.
"I always felt like Unreal had been positioned as not-beginner software," he says. "That was what professional people who knew what they were doing used. But I picked it up and fell in love with it instantly."
The entirety of Wrongworld runs in Blueprint, the visual scripting language Unreal Engine 4 offers to non-programmers: "There's not a single line of code in it, and it runs flawlessly."
The hope was to make a game in the style of Don't Starve but in 3D, replete with crafting tiers and random events. But once Coles had the ability to implement any offbeat idea in his head, Wrongworld evolved into something much wronger. Take the snakes that stand on two legs and produce "redneck noises" from their crooked, pipe cleaner throats. Or the distinctive yet familiar alien that clucks like a chicken.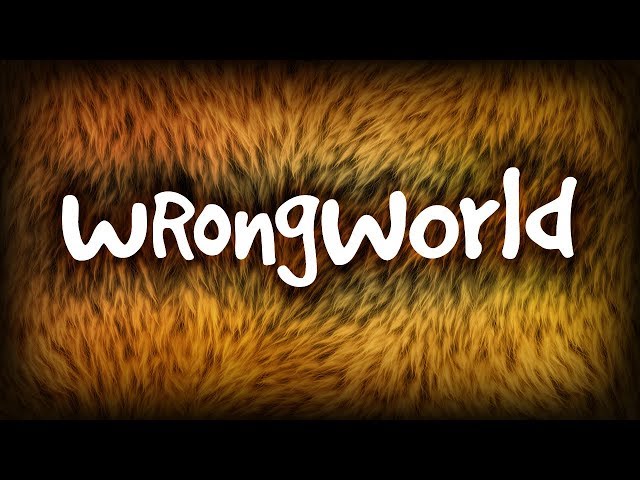 "It's not a xenomorph," Coles says. "It might look very similar but for legal reasons it's most certainly not one. Originally that was just a placeholder sound effect, but I completely fell in love with it and now I can't change it."
Coles suggests the survival genre is inherently silly in the concepts it accepts as standard – a wooden axe, for instance, used to chop wood. He's simply leaning into that silliness, with a crafting upgrade system that builds to chainsaws, pneumatic drills, and cloning stations. Then there are Wrongworld's bosses, one of which is a robot with a very tidy house. You can't hurt him initially, only mess with his stuff – causing the boss to get cross and turn his back long enough for you to shoot a cannonball into it.
"The setting of the world is so incoherent and ridiculous that I can just slot anything fun I can think into the game, and it fits," Coles says. "Because there's such a consistent lack of consistency, it works well."
Nuclear vacuum cleaners
Occasionally, Wrongworld's absurdity comes from perfectly sensible sources. The game features an auto-collect system, for instance. If you hold down the right mouse button, the game scans for all nearby items it is possible to pick up. Once done, it finds the closest object, walks your character over to it, and begins the process again.
The system was developed as a simple tool of convenience: "Picking up individual items was going to get tedious pretty quickly, especially when you smash a rock and it shatters into ten pieces." But it also birthed the nuclear vacuum cleaner, a weapon you're unlikely to find in Fortnite anytime soon.
"I wanted a new staff weapon, and wanted every weapon to have a new and interesting purpose," Coles explains. "What the vacuum cleaner is doing is just pinging all of those items and applying constant physics forces to them. If you move along while you're doing it, you can end up with a swirl of things flying around you."
Music but no soundtrack
Wrongworld is stuffed with random events: tornadoes, UFOs, and the blood moon that sends the normally docile pig-beasts that roam the land into a sudden rage. But the part of the game Coles is most proud of is the random music that plays at night.
"There are three synthesisers playing notes in E minor, which has an unsettling horror feel," he says. "Unreal's sound system is randomly triggering notes from each of these synths on top of each other to make a nice harmony, as well as triggering random percussive noises.
"I just didn't have time to sit down and write music for a couple of months to use in the game, so I thought I'd see if I could use randomly triggered music. And it works brilliantly. As soon as I'd done it, I thought, 'I'd listen to that as an album'."
It would be impossible for Coles to release Wrongworld's soundtrack as an album – it plays differently every time. Yet the atmosphere it produces is always exactly what he intended. In fact, Coles's commitment to randomness lends Wrongworld an unlikely consistency. It all works because it's so reliably wrong.
Wrongworld is available on Steam. Unreal Engine 4 development is now free.
In this sponsored series, we're looking at how game developers are taking advantage of Unreal Engine 4 to create a new generation of PC games. With thanks to Epic Games and Sludj Games.