If 'long-awaited' was ever a phrase designed for a purpose, that purpose was the AMD B550 release. It's been a long time. Too long, perhaps. So, when we stumbled across a leaked B550AM motherboard specification sheet and user manual, we had to rub our eyes, cartoon-style. Since that leak, however, we have since received anecdotal reports that claim these boards have been out, and even marketed as B550A PCIe 4.0 motherboards, for a while.
The ASRock B550AM's leaked specification sheet and user manual told the story of a small-form motherboard with a lot to offer – primarily PCIe 4.0 support and a large number of VRM phases that would be helpful for overclocking. Considering AMD Zen 3 CPUs will most likely stick to using the AM4 socket – and Zen 2 is killing it in price/performance – the B550AM seemed like it might provide a hell of a lot of value.
However, anecdotal reports claim that this PCIe 4.0-enabled board has actually been around for months, being sold only by manufacturers like Cyberpower who package the motherboard as an OEM product in pre-built PCs sold under its own name. This would mean we've actually had 'B550' boards with PCIe 4.0 support for quite some time. The 'B550' is in scare quotes for a reason, here, though.
You see, it's not clear whether these AMD B550AM motherboards are actually using a B550 chipset or not. In fact, there's plenty of reason to believe that they aren't B550s at all, and are instead using a rehashed version of the B450 chipset – as per AMD's rather roundabout explanation.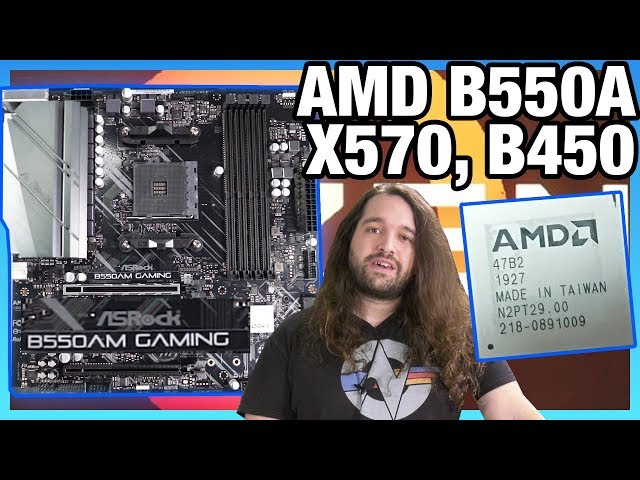 Corroborating what was described in a report we received, Gamers Nexus recently looked at one of these B550AM motherboards, stating that they took it from a Cyberpower PC that was bought from Best Buy. Gamers Nexus tells us that this motherboard, like the B550AM whose specifications were leaked, supports PCIe Gen 4.0 in the first expansion slot and the first M.2 slot. This makes us believe it's the same board that was leaked. Well, that and the fact that 'ASRock B550AM Gaming' is plastered on the centre of the board.
He also claims that this motherboard's chipset is is a carbon copy of the B450 chipset and that this 'B550AM' chipset itself doesn't offer any Gen 4 lanes. Instead, AMD (or perhaps rule-breakers ASRock) has simply removed the lock from the 3rd Gen Ryzen's CPU PCIe 4.0 support on these boards, allowing Ryzen 3000 CPUs to provide Gen 4 support for the first PCIe and M.2 slots.
The original AMD B450 boards tentatively enabled PCIe 4.0 support in the same expansion and M.2 slots before AMD disabled the functionality through AGESA updates, citing stability concerns. This might make the more cynical-minded of us suspicious that the B550AM is no more than a rebranded B450, this time with PCIe 4.0 functionality intentionally enabled. If this PCIe 4.0 functionality has truly been enabled through a mere AGESA update, it would be nice if AMD could extend the same courtesy to all B450 boards… just sayin'.
So, rather than being a B550, or even a new release of a rebranded B450 with PCIe 4.0 support, it looks like the leaked AMD B550AM motherboard might be an old rebranded B450 with PCIe 4.0 support – one that's been available for a while in OEM models. Maybe the only new thing about this board will be that it will be available for official standalone purchase. Or maybe AMD will just wait until Zen 3 for bargain PCIe 4.0.