One impatient dataminer has tunnelled their way into Borderlands 3's core files for details on its first post-launch event, Bloody Harvest, and he's come up holding a diamond as big as his head. The diamond, in this case, being an indication of what the event may contain, and his head being, well, his head.
We already know Bloody Harvest is a Halloween-themed content update that drops for free sometime around the trick-or-treat season. Also, it promises 'spooky activities' and 'unique event rewards', according to Gearbox. Thanks to Stephen Chapman, however, you can now get an even more in-depth look at what to expect.
So, what does Bloody Harvest bring you? First, there are the customisation options. As Chapman's video shows, there are references in Borderlands 3's files to new character skins, headwear, and weapon trinkets. While there are no images to accompany the strings of text you see in the game's files, you can probably have a guess at what those are. Big pumpkin helmet? Yeah, big pumpkin helmet.
There are also Bloody Harvest challenges. No word yet on what they consist of, but they're almost certainly the means by which you acquire all that juicy new gear, no doubt by shooting a lot of enemies. This is Borderlands 3, after all. As Chapman reveals, one of those enemies is simply called the Bloody Harvest Ghost, and another goes by the more evocative name 'Haunted Punk', which conjures images of a pre-Country Life John Lydon.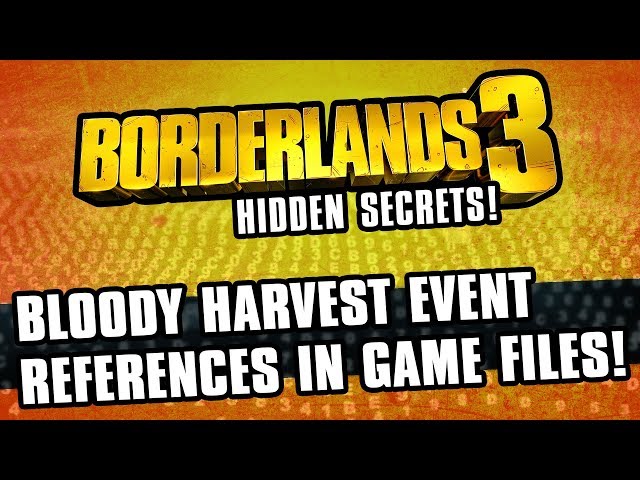 In addition to cosmetic items, challenges, and enemy types, there's fresh dialogue for Balex, the spirited teddy bear played by musician Ice-T. In-game files refer to 'dialogue events', and seemingly show off his new voice lines. "Bloody Harvest, baby! It's spooky time!" is one. "During Bloody Harvest, all drinking water will now be pumpkin spice-flavoured. You're welcome," being another. It's probably funnier when Ice-T says it. Find him on your ship, Sanctuary III, to hear his updated witterings.
This isn't Borderlands' first Bloody Harvest. In Borderlands 2, T.K. Baha's Bloody Harvest dropped on Tuesday, October 22, 2013, and brought with it a new medium-sized environment, a boss fight, and skins. Where that expansion cost money, however, the upcoming one is free. That's an unequivocally positive step. What might be less positive is risking the wrath of Gearbox by datamining its game.