Corsair has unveiled custom liquid cooling components at Computex 2019 under the Hydro X brand. With a complete lineup of CPU/GPU water blocks, a pump/reservoir combo, tubing, radiators, coolant, and various shades of fitting, the well-known AiO liquid cooler company is hoping to make a big splash into the custom market.
I had a chance to check out Corsair's new kit over at the company's suite during the event, and there sure is plenty of the stuff – the new range took up most of Corsair's floor space. However, despite the sheer number of products under the Hydro X umbrella, a spokesperson assures me that one of the primary focuses of the range has been to make custom liquid cooling a little less daunting to newcomers.
So let's start with the XC7 and XC9 water blocks. These nickel-plated copper cold plates are available for pretty much any Intel or AMD chip you can find on the shelves today, and are fitted with 16 addressable LEDs for that extra level of in your face flair. And I have to say, after checking out the wall of liquid cooling equipment for myself, the RGB is surprisingly rather tasteful.
These all come with pre-applied thermal material. I'm not sure how many liquid cooling aficionados will leave that thermal goop intact, but it sure makes the process a little easier for beginners.
Something simple: These are the best liquid coolers on the market
So far the selection of GPU blocks is limited to just the very best from AMD and Nvidia. GPU water blocks include those for Nvidia's GTX 1080 Ti, the RTX 2070 and up through the RTX 20-series, and AMD's RX Vega 64 and RX Vega 56. These also come pre-applied with thermal paste and necessary thermal pads depending on the memory/VRM configuration of your chosen card.
GPU blocks start out from £140, while CPU blocks will set you back £70 or more.
There's only one pump/reservoir for the time being, the XD5. Luckily this 330ml kit is fully-RGB, so nothing to worry about there, and features a temperature sensor for real-time coolant monitoring.
And all that can be rigged up to any number of radiators with either hard or soft tubing. Soft tubing is the easiest of the lot and requires no special equipment, while hard tubing runs will require you to do all the bending yourself – heat gun not included.
Fittings are available in white, black, gold, or chrome.
Corsair has put together a custom cooling configurator in an attempt to make all that tubing, radiator placement, and water block business a little easier. This software will tell you all the parts you need, where to get them, and how to set them up in your particular case.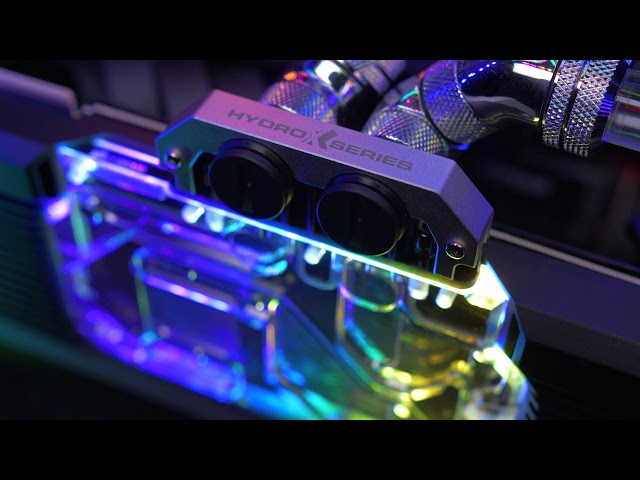 I ran through a quick demo of the software, which is now available on the Corsair website, and I found it rather succinct and easy to use. Corsair has even included a couple of leading competitors cases to make things easier whether you're entirely inducted into the Corsair ecosystem or not.
So if you're teetering on the edge of indulging in a custom-cooled rig, now may be the time to take the dive. Corsair's Hydro X lineup is available immediately across the company's online stores worldwide.
And all this from Corsair comes as no surprise, not after the company acquired a couple of execs from liquid cooling specialists EKWB. All this competition in the custom liquid cooling market can only mean one thing: better product for consumers all round as these companies duke it out for the top spot.