So, you're building a PC, you've finally got all your components mounted in the right places, and everything seems to be working alright. Now comes the part every PC gamer hates: sorting the cables out. But luckily for us, Corsair's coming to the rescue with iCUE Link.
Take it from me, fiddling around with a nest of wires can seriously harsh your DIY build's vibe, and Corsair's latest reveal will certainly have pricked the ears of many a PC enthusiast. The component manufacturer looks to revolutionize cable management with iCUE Link, a new line of PC parts that can be linked together in a single chain. The days of stuffing a glut of cables into a clumsily concealed side panel might be coming to a long-awaited end.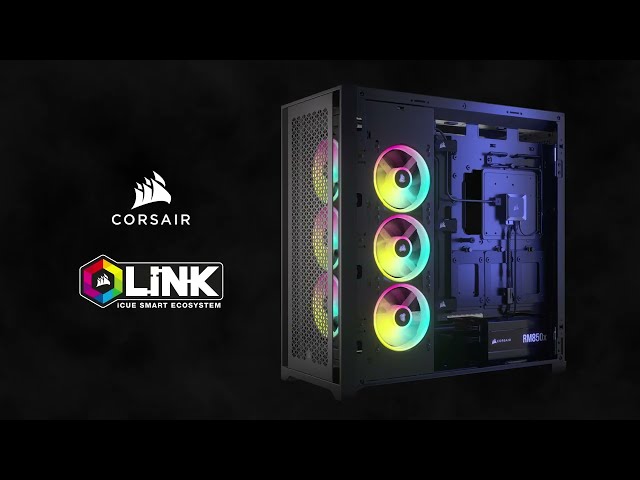 Corsair claim its new parts, including "fans, AIO coolers, custom cooling components, and more", enjoy patent-pending single-cable technology which can speed up the PC assembly process by up to 50%. (I'm not quite sure how they worked that one out, but there you go). With this new tech, an LED fan would only need a single cable to power it and control the RGB functions.
Even better: you can daisy-chain Corsair's compatible parts together. So, rather than each fan and cooler needing its own cable, they're connected in a single cable with universal connectors that remove the need to mess around with different connectors and other fiddly parts. The chain ends in Corsair's new System Hub, which allows you to control all the linked parts, with a new Time Warp RGB lighting mode that "uses a strobing effect to make it appear as if your fans are frozen in place or spinning backwards", and "individual fan response curves that let you optimize for noise and performance".
Corsair iCue Link fans, AIO coolers, and the System Hub arrive in June 2023, with other products launching further down the line. We don't know what kind of price iCue Link components will command, but it's a fair bet that they'll carry the same premium price tag as the company's other products. Looking to work on a rig of your own? Check out how to build a gaming PC.