The International, Dota 2's biggest annual tournament, is drawing to an explosive finale. Over the weekend, 2018 winners OG face off against PSG.LGD for a spot in the Grand Final, while Evil Geniuses, Team Liquid, Vici Gaming, and Team Secret continue on through the loser's bracket. But as well as the matches themsevles, Valve had something else to show off.
During today's livestream, the developers unveiled new hero Snapfire. In a trailer, which you can check out further down this article, Snapfire is introduced as an adorable old lady, baking personalised cookies for some of the other heroes in Dota's roster.
It doesn't take long, however, before things heat up, as Batrider and Timbersaw show up to steal those aforementioned cookies. In response, Snapfire introduces an adorable, Toothless-esque lizard mount. As the trailer progresses, we get a look at what appears to be a collection of Snapfire's abilities. At the outset, she throws a cookie towards Invoker, giving him a significant buff, which could mean she has some support qualities.
Later on, that lizard seems pretty important, offering what looks like a speed boost, as well as a mounted turret. Most important, however, at the end of the trailer, Snapfire's reptilian friend blasts Timbersaw with lava, in what looks like it could be the new hero's ultimate move.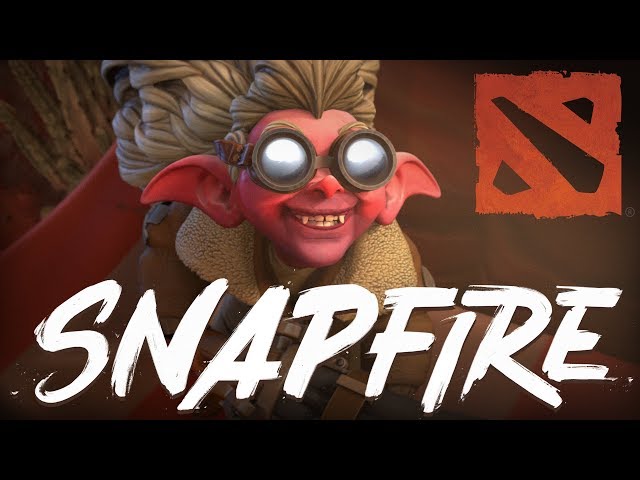 Elsewhere, the only clue we have as to abilities is the use of a triple-barreled shotgun. More details are likely to follow soon, but for now Valve is keeping relatively quiet.
More like this: Here are the best beginner Dota 2 heroes
We don't have an exact release date for Snapfire, but it seems as though she's not too far away from joining Dota's roster.
The trailer ends by saying she'll arrive in fall 2019, meaning the explosive new hero could make her way to the game any time in the next couple of months.