While we wait for Capcom to hopefully take Resident Evil back to its fixed camera roots one day, a small team has developed their own horror game for Steam, with a free demo available right now. Called Echoes of the Living, it channels classic Resident Evil right down to the DNA, and it's absolutely worth a try if you miss creeping around the Spencer Mansion.
Developed by MoonGlint, Echoes of the Living is set for release during quarter four of 2023, with a free Steam demo available right now. From what I played of the demo it has all the hallmarks of classic Resident Evil you'd expect: a fixed camera, tank controls, inventory management, puzzles, and a city overrun with the undead.
Is Echoes of the Living actually worth a try though? I'd say so from the demo at least. It's a little rough around the edges and there's some stuff you should know heading in, but the atmosphere and way it channels classic Resident Evil so purely are both worth merit and ripe for fans of the genre.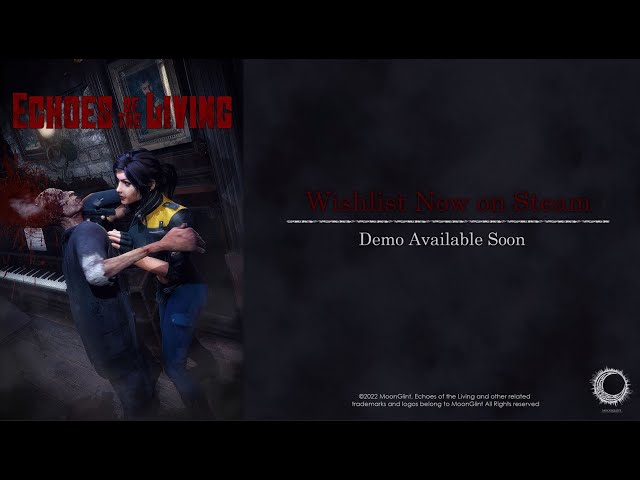 The tank controls can take a minute to get your head around as they're always dictated by the player character's position and not the camera. This isn't helped by the Resident Evil 2 style opening that surrounds you with quick zombies from the very start, but if you push through and spend some time getting used to the controls, it's absolutely worth it. You can even select between two playable characters a la Resident Evil 1 and 2, so there's a lot here for classic fans of the series to enjoy.
The best advice I can give you has already been passed around by Resident Evil fans of the last 20-odd years: don't kill every enemy if you think you can get around them, keep an eye on your inventory, and be careful when and where you save.
With games like Signalis, Murder House, and Tormented Souls coming out recently and getting acclaim from players and critics, there's clearly still a place for fixed camera horror in the videogame landscape, so here's hoping the full release of Echoes of the Living can carve out its own spot.
If you want to give Echoes of the Living a go, you can find it over on its Steam page where you can wishlist the full release as well.
We also have lists dedicated to the best survival games and best VR horror games, if you want even more experiences that ratchet up the tension.