The votes are in, and EA has revealed the Team of the Year for FIFA 20, so we know the names of the players who'll represent the best of the sport in Ultimate Team. Though the publisher will provide a slow drip feed of official stats over the course of the week, leaks have already provided the top-line stats for each of the 11 players, so you can get your arguments started early.
Liverpool gets big representation here, as Sadio Mané, Trent Alexander-Arnold, Virgil van Dijk, Andrew Robertson, and Alisson Becker all make the cut. Beyond that, you'll find Lionel Messi and Frenkie de Jong of FC Barcelona, Kylian Mbappé of Paris Saint-Germain, Kevin De Bruyne of Manchester City, N'Golo Kanté of Chelsea, and Matthijs de Ligt of, er… 'Piemonte Calcio.'
The attackers are already available, so you'll find a 97 rating for Mané, a 98 for Mbappé, and a 99 for Messi. Those scores – and the full list of players themselves – line up with a leak that hit the internet last week, so below you'll see the full roster with all their likely player ratings attached, pending the official score reveals.
97 – Sadio Mané – Liverpool
98 – Kylian Mbappé – Paris Saint-Germain
99 – Lionel Messi – FC Barcelona
97 – Kevin De Bruyne – Manchester City
95 – Frenkie de Jong – FC Barcelona
96 – N'Golo Kanté – Chelsea
94 – Trent Alexander-Arnold – Liverpool
98 – Virgil van Dijk – Liverpool
94 – Matthijs de Ligt – Piemonte Calcio
94 – Andrew Robertson – Liverpool
96 – Alisson Becker – Liverpool
#TOTY 99 🇦🇷 @TeamMessi 98 🇫🇷 @KMbappe and 97 🇸🇳 Mane available for the next 24 hours! #FIFA20 pic.twitter.com/BPdaWvCGPm

— EA SPORTS FIFA (@EASPORTSFIFA) January 6, 2020
A 12th Ultimate Team player will be selected according to in-game fan votes.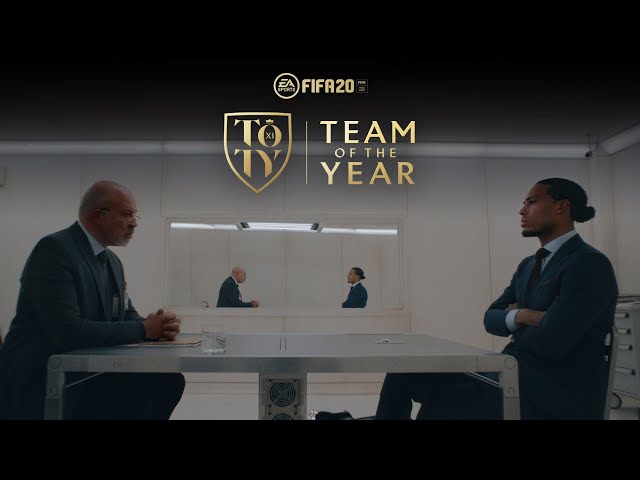 My colleagues in the UK office continue to think it's hilarious to make the US correspondent write about football, but I'm just over here trying to figure out how Lamar Jackson didn't make the cut.