Looking for the named locations in Fortnite? Chapter 2 is finally here after what felt like an eternity staring into a black hole and with it, all new challenges and water-based gameplay.
Fortnite has landed with a new map featuring some old locations and some new. After watching Fortnite disappear into a black hole, we didn't hold out much hope for the return of our favourite locations. But, the new map has landed featuring winding streams, fishing rods, and speed boats.
Initially the Fortnite map is greyed out, but once you start discovering landmarks and named locations, more of the map will reveal itself. It's a neat way to get to grips with Fortnite's new map. As you can see, it's not too different, but strips out the desert and frosty locations, adding plenty of streams running to the centre of the map. The Fortnite New World challenges so far, are ways for you explore the map and features. Here are all the named locations in Fortnite.
Fortnite all named locations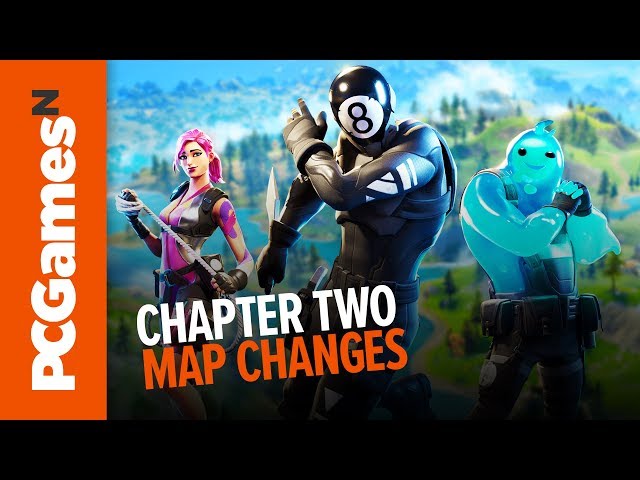 As part of Fortnite Chapter 2 and the brand new map, the Fortnite New World challenges help you discover all the locations. From the map, you can see the return of Pleasant Park and Weeping Woods, but now more beaches are scattered around the map, including new locations such as Sweaty Sands and Craggy Cliffs. The new look leans into the water theme, as streams weave throughout the map and are full of new fishing opportunities, and a brand new vehicle (and way to get spotted) – the speedboat.
The Fortnite named locations are:
Dirty Docks
Frenzy Farm
Lazy Lake
Salty Springs
Holly Hedges
Slurpy Swamp
Retail Row
Steamy Stacks
Craggy Cliffs
Sweaty Sands
Weeping Woods
As more world challenges in Fortnite release, we'll be sure to update our guides, but for now, have fun exploring the new Fortnite map!