The most recent GRID game was 2014's GRID Autosport. It was fine. People played it then carried on with their lives; unlike Dirt Rally, demand to see it return wasn't exactly deafening. That's why the reboot, simply called GRID, needed to do something to make people sit up. Game director Chris Smith knows this very well indeed.
"We just didn't want to make a 'me too' game. I can't make a 'me too' game…" he tells us. "GRID had to have that reason of why, as a development team, should we care about it." But what about you. Why should you care about GRID?
The main innovation setting it apart from other driving games is a newly minted AI choreographer. This is the loose term given to a system of dynamic elements that weave themselves through a race. Among other things, it will pick your opponents from a pool of over 400 different AI profiles, all specifically tailored to give you a different challenge.
The results can be dramatic. During our hands-on session, we notice some drivers aggressively defending their line, while others favour reckless acceleration into the bend. The goal, of course, is to prevent players feeling like they're racing against a monotonous parade of identical opponents. And while it doesn't quite nail the experience of a chaotic online race during our brief time with the current build, you certainly have to watch out for a few rogue madmen peppered throughout the pack.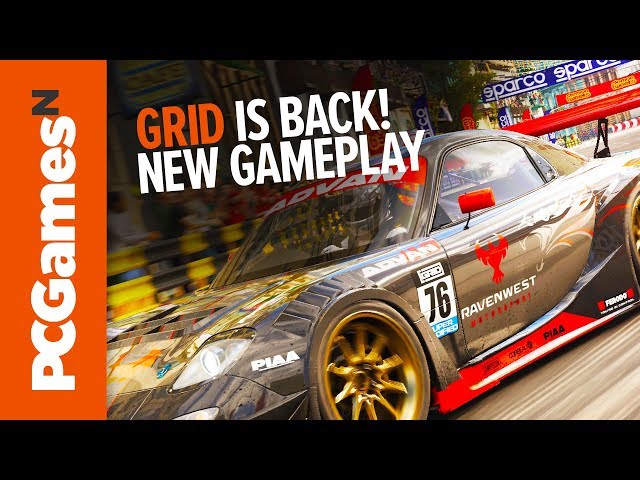 "With this unpredictable motorsport, we're bringing something that's unique to the industry," Smith explains. "Which I think is what GRID has to do. And that's what its legacy is as a game."
Test other drivers too much by, say, barging them loads of times, and you'll trigger the nemesis system, whereupon the word 'NEMESIS' appears at the top of the screen in angry red letters. This slightly boosts the skill of your incensed new rival, and they'll now stop at nothing to get ahead of you, working hard to block your line and ploughing into you on apexes just to take you out.
You can face up to five nemeses in a single race, depending on how much you enjoy trading paint, but you'll have to be some kind of extreme jerk to pull that off. Once the event's over, however, they'll cool down – presumably nipping off for a whale-song-soundtracked massage between events.
But driver personalities also make their presence known over the course of GRID's career mode, which is organised by race discipline: touring, stock, tuner, GT, invitational, and bizarrely, Fernando Alonso. You can select any event in any order, but one constant is the need to hire teammates. Some you'll get on with, and some you won't.
One teammate might be very fast but infuriatingly stubborn, rejecting your orders for him to move up the pack – you can use the controller's D-pad to issue orders. Other teammates might just plain suck. In a sport rooted in repetition, hard graft, and tackling courses day after day, varied driver personalities should help keep things that little bit fresher.
The choreographer also throws in a few random incidents per race. They'll spice things up with driver mistakes, blown engines, and even dislodged wheels. Several times we see an unfortunate car up ahead tumble through the air. This kind of thing has been done before, of course, but Codemasters' concerted focus on keeping things dramatic is certainly encouraging.
GRID lacks the unfathomable depth of Project Cars' vehicle handling, the frankly silly customisation options of Trackmania, or the gritty authenticity of something like Assetto Corsa.
But in its broad spectrum of AI personalities and penchant for on-track drama it exhibits real spirit. Thanks to this, every race feels like its own bespoke battle, and we, for one, are very happy to see the series' return.