September 4, 2019 Blizzard digs deep to show off upcoming solo adventure Tombs of Terror.
Hearthstone's next solo adventure, Tombs of Terror, begins later this month, on September 17. Before then, however, Blizzard is giving you a sneak peek, in a new trailer released last night.
In the video, which you can check out for yourself further down this article, mission designer Ryan Collins explains how the new solo adventure will work. Much like the last adventure, the Dalaran Heist, the adventure will be split into four chapters, the first two of which will be available at launch. Chapter three unlocks on September 24, while the fourth chapter and the finale arrive on October 1.
The new adventure sees the return of the League of Adventurers, with Reno, Elise, Brann, and Sir Finley all available as playable characters. The twist is that each character will be a combination of two classes – Reno, for example, is a Mage/Rogue combo, while Brann is a Hunter/Warrior – and you'll be able to build your deck using both classes.
As well as fighting through an assortment of random encounters, your main aim will be to defeat the powerful Plague Lords that are terrorising Uldum. These enemies will be difficult to take down in one go – the video shows one that boasts 300 health – but the damage you do is persistent, meaning you can whittle them down over time.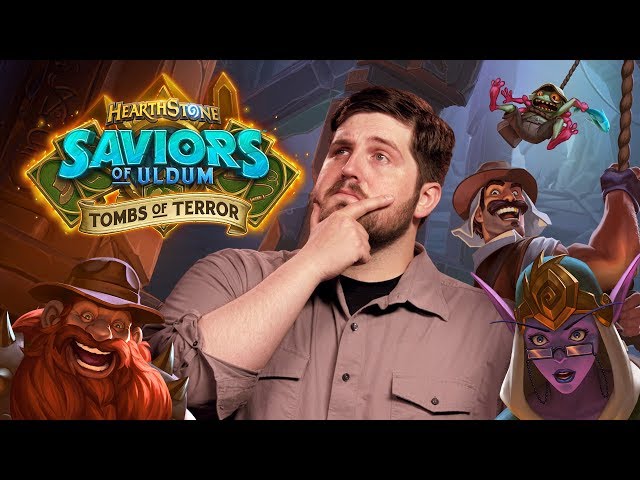 You've got time to prep for the adventure over the next couple of weeks thanks to some special Tavern Brawls which will let you earn three free Saviours of Uldum card packs. On top of that, there's a new deluxe bundle, which offers a legendary card and 16 card packs for a reduced price.
Tombs of Terror is the second solo adventure in Hearthstone's Year of the Dragon, which kicked off a year of narrative content as part of the last expansion's The Dalaran Heist, which saw Rise of Shadow's League of Evil attempt to steal the floating city of Dalaran.