One of Hollow Knight's most endearing features is the characters you meet on the way to beating the final boss. Some are quite languid and goofy, like the game's opening boss, False Knight, while others are wise yet otherworldly – The Seer comes to mind. Then some are just outright creepy, and you can imagine anyone from Deepnest for a visual on that. One thing all these bug-inspired creatures have in common, though, it that they're wonderfully quirky – putting them in tune with the game's overall vibe.
When it comes to Team Cherry's follow up, Hollow Knight: Silksong, we can expect to meet a swathe of new bugs. During a gameplay reveal on Nintendo Treehouse we saw the first level and another early chapter of the upcoming game, with Nintendo mentioning during its playthrough that there will be over 150 new characters.
For Hollow Knight: Silksong we're in control of Hornet, who will be familiar to anyone who has played the original. Aside from her, though, everyone we meet in the gameplay reveal is new. As the story goes, our silky heroine has been captured and whisked away to a kingdom far away before she escapes and has to figure out what's going on.
The opening area, Moss Grotto, has a similar vibe to the original game's Greenpath area. Enemies are quite similar, too, and appear as cutely drawn spiky caterpillars and flies. The boss we come across, Moss Mother, is just like one of the flying bugs but is massive.
After that, we get a story tease that we may have a mentor figure in the game before seeing our next area, which is stylised around fire and volcanic activity. This one has a slight Kingdom's Edge vibe to it, if only it were set ablaze.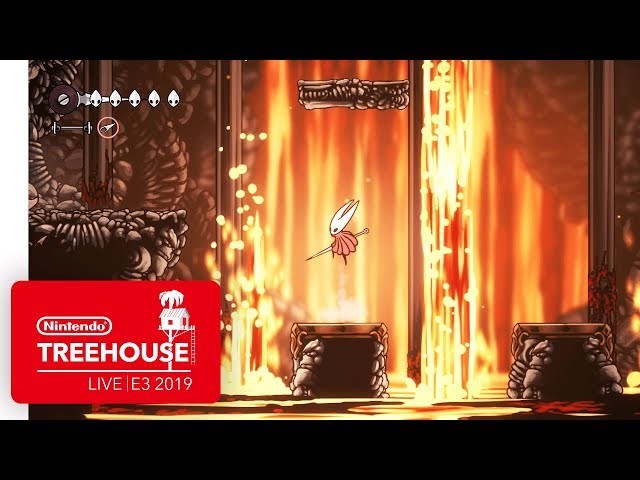 One of the two standout enemies we meet here is a friendly flea who, well, flees when we meet them, which could make them like the Grubs from the last game that acted as collectables. The other one we see is a goofy foe with a bell on its head which acts like a helmet. To get around the head protection, we have to strike at the body.
We also see how Hornet differs from The Knight from the previous game. She falls faster as a result of being larger, and her power-up is themed around silk rather than soul. Hornet also heals herself much quicker than the Knight and, according to Nintendo, is more acrobatic, too.
Read more: the best PC indie games for you to play
There's no word of a Hollow Knight: Silksong release date just yet, unfortunately, but we do know that Hollow Knight: Silksong will be coming to PC and Nintendo Switch, the latter not being a great surprise as Team Cherry's Metroidvania drummed up some series hype there when it was released last year.