League of Legends' World Championships are currently underway, with the best teams from the game's biggest regions fighting to lift the Summoner's Cup in early November. The tournament's group stage wraps up today, and this week has seen multiple teams leave the tournament.
One of those teams was Europe's second seed, Team Vitality. Playing their first-ever Worlds, the team were drawn into what many fans dubbed the tournament's 'Group of Death' – Group B also contained China first seed RNG, defending champions Gen.G, and North America veterans Cloud9. Many fans assumed that the Asian teams would dominate their groups, with Western organisations caught in the crossfire.
But that's not what happened. Vitality and Cloud9 showed up, while the game's defending champions struggled to get going. Gen.G stumbled to a 1-5 win-loss record, eliminating themselves from the tournament with one of the worst performances of any Korean team. Even RNG had trouble, dropping two games, offering Vitality a chance to progress as the Europeans bested the Chinese champions. Sadly, it was not to be.
Cloud9 followed Vitality's suit by upsetting RNG in their matchup, and then pulled off a second victory in a row, defeating Vitality and setting up a tiebreak for first place with the Chinese team. That second win eliminated Vitality from the tournament, and that defeat yielded a heartfelt appeal to Western teams from the defeated coach.
Jakob 'YamatoCannon' Mebdi is a former League of Legends player who began his coaching career in 2015. In an interview with Riot's Eefje 'Sjokz' Depoortere, he appealed to European teams to play their own style and not worry about chasing after other, more dominant teams.
"I think in Europe, and teams in general, it was always this chase. There was a chase, catching up to Korea, catching up to China, always trying to learn from them, But something that I have realised is that the inspiration that everyone got from Misfits, that five-game series where they did their own thing, they came in with their own idea, and they showed up big time."
Mebdi references Misfit's quarter-final match against then-Champions SKT during last year's tournament. Down 1-0 in the best-of-five series, the European rookies tweaked the meta, going hyper-aggressive by drafting an attack-speed Leona against the three-time World Champions. Misfits won two games before eventually losing the series 3-2 in the final two games.
The idea that professional teams needn't religiously obey League of Legends' rigid meta is something that Mebdi says was his philosophy coming into the 2018 season. His own mid-laner, Jiizuke, carried the first game against Gen.G on his signature (but off-meta) Ekko. Other European teams have seen success by simply playing their own things – G2's Hjarnan got the opportunity to play his Heimerdinger, and the team played around it perfectly to take a win against Korea's Afreeca Freecs, while Fnatic's Caps has been a consistent threat on Irelia in the mid lane.
Mebdi closes by appealing to Fnatic and G2 to "stay true to yourselves. Don't try to chase anyone, don't try to copy anyone, just be confident. Don't limit yourselves either. Go into this tournament, play your next game believing that you can fucking win anything. That is the mentality you need to have to conquer the best."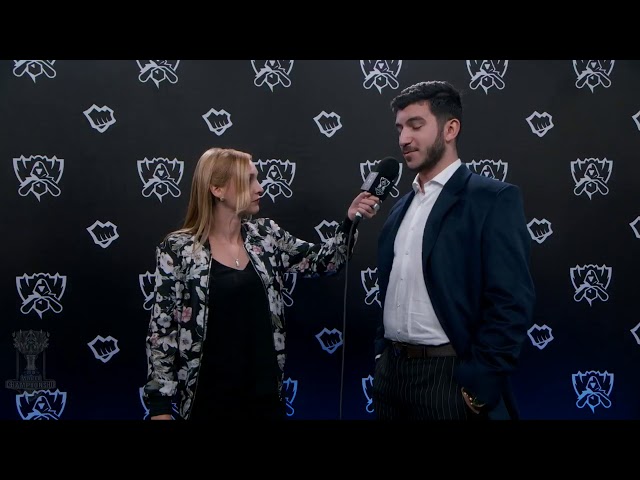 Both G2 and Fnatic have progressed to this weekend's quarter-finals, while only Cloud9 remains to represent North America. It's still too early in the tournament to be sure, but there are signs that Europe in particular might be able to challenge Asia for the top spot this year.
You can check out Mebdi's interview in full in the video above. The Worlds 2018 group stages wrap up today, with the knockout stages kicking off with tomorrow's quarter-finals.