Monster Hunter: World had already brought Monster Hunter to the masses and helped revitalise the series, so Iceborne has a lot to live up to. Well, Monster Hunter World: Iceborne is to the base game what chocolate ice cream is to chocolate biscuits. Which is to say, it's more of the same thing you're already here for – but a bit colder.
Set after the story of the base game, Iceborne has you investigating the strange behaviour of some of the giant creatures of the new world. Your quest leads you to an entirely new region: Hoarfrost Reach. This is a brutally cold environment filled with new monsters to fight, new materials to gather, and a whole host of new idiosyncrasies to learn — both in terms of the monsters you hunt and the ground on which you hunt them.
You only get access to a small portion of it to begin with, but it opens up considerably as you progress through the new hunts. And as cool as Hoarfrost Reach is, the stars of the show are the new monsters. Iceborne adds a vast rogue's gallery of new creatures for you to fashion a hat out of.
Series newcomers will appreciate having over a dozen new beasts to fight, while long-time fans will recognise returning favourites. Naturally, each has its own behaviours and attacks, which are shown off in spectacular fashion as monsters fight each other in some genuinely astounding turf wars. These could well be my personal highlight of Iceborne thanks to their unique animations, and there's also something devilishly satisfying in sitting back and seeing the various dragons and angry doggos tear huge chunks of damage out of each other.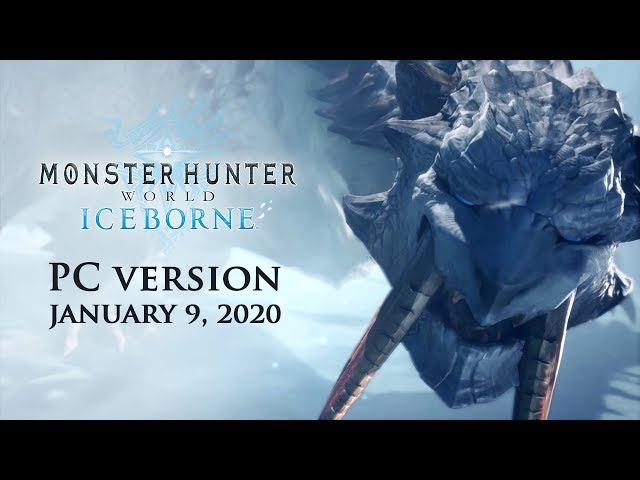 You've got a lot of content ahead of you as you hunt each of these down for new armour, weapons, and charms. The main story itself is around 25 hours long, but only if you're an expert hunter who can slay your quarry first time. Throw in the extra expeditions you can take on to get those sweet, sweet outfits, and all in all you're looking at dozens of hours more fun.
Alongside all the new monsters to slay comes a slew of new ways in which to slay them, as each of your weapons gets more attacks. These range from the more functional, like the insect glaive's dive attack, to the entirely over-the-top, like the charge blade's spinning transformation. They all add extra ways of lovingly coaxing each of the giant beasts into a trap, and each new attack makes its weapon feel a little bit fresher than before. In fact, some weapons are so transformed that you may even find a new favourite.
You've also got the clutch claw, which is an upgrade to your slinger. This gives you the ability to grapple onto monsters like Spider-Man and either attack them with your weapon, which weakens whichever limb you hit, or you can fire all your slinger ammo into your prey. The latter option will send the monster charging forwards, and if you can get them to run into a wall they'll fall over and be left vulnerable. It's an excellent addition to the techniques at your disposal, and getting a monster to faceplant a wall never really loses its appeal.
It all ties together to create a wonderfully refreshing version of Monster Hunter: World, but it's not without a couple of issues. The main missions are a lot of fun, but there are moments where the cadence can feel a little bit odd. After your initial fight with one of the monsters you end up traipsing around for a couple of missions, which feels more like busywork than anything else. It's something that Monster Hunter has always had a bit of an issue with; the hunts you go on don't always feel meaningful.
There were also a few technical issues in my time with Iceborne. Every so often the game would simply freeze for three to five seconds. This would be a nuisance in a single-player game, but in an online multiplayer game it can be fatal, as it often leads to you taking huge chunks of damage that you literally can't do anything about. While I wouldn't say it ruins the game, it definitely detracts from an otherwise brilliant experience.
Despite these two problems, Monster Hunter World: Iceborne feels like Monster Hunter perfected. It's a little bit more of everything that makes the series so enjoyable, and the additions in terms of monsters, attacks, and techniques all add up to create one of the best pieces of DLC in recent memory. Iceborne will easily keep you entertained for as much time as you can give it.
Iceborne is a little bit more of everything that makes Monster Hunter so enjoyable. The pace drags at times, but that's easy to forgive amid dozens of hours of cool new monsters to slay.