Which graphics card is better for ray tracing, Nvidia or AMD? The answer is obvious, right? Nvidia has RT Cores in its graphics cards – silicon dedicated to accelerating ray tracing in-game – and AMD… well, AMD doesn't. So there's no real contest between the two when it comes to accurately portraying shadows, reflections, and lighting in-game.
But we've not had an opportunity to test out ray tracing across red and green team tech ever since real-time ray tracing started inching closer to mainstream game adoption. Nvidia unlocked Microsoft DXR support across most of its Turing and Pascal GPUs, despite some lacking those revered RT Cores. However, AMD has so far kept mum about its plans for a ray-traced future beyond next-gen GPUs sometime in 2020.
Luckily, we don't have to wait for AMD to get around to DXR support or hardware acceleration to see whether its tech is up to the task of real-time ray tracing. Crytek's Neon Noir demo is built using an API- and GPU-agnostic ray tracing implementation founded on the Cryengine's Total Illumination functionality. That not only makes this benchmark awfully pretty, it's also the perfect battlegrounds for our Nvidia and AMD ray tracing skirmish.
You may be familiar with the Cryengine Neon Noir demo from when it first debuted at GDC 2019. The brand new benchmark follows a police drone through a rainy metropolitan cityscape, whirring past spotless windows and gritty back alleys basked in neon light. Each scene a textbook example of the profound effect ray tracing (specifically ray-traced reflections and refraction) can have on the depth and realism of any videogame.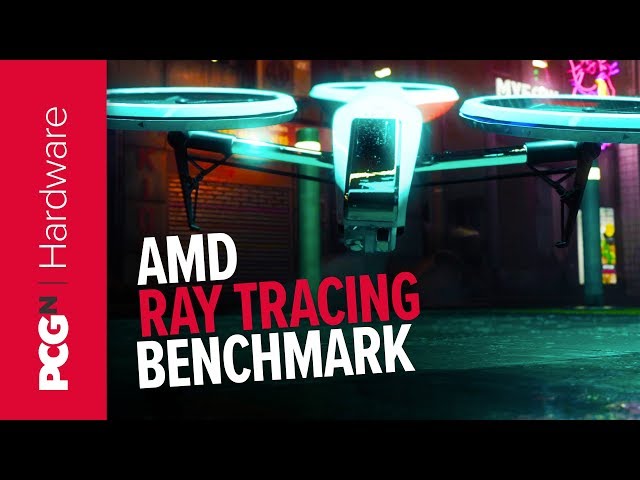 Yet it was the specs behind the scenes that had the techie world wowed. Crytek's demo was running at 1080p30 on AMD's second-tier RX Vega 56 graphics card – ray tracing and all. And all as if it weren't some sizeable affront to everything Nvidia's recent RTX 20-series graphics card lineup represented with its dedicated ray tracing hardware.
Eight months and some dev work later and we finally have that demo on-hand to test across the full span of today's expansive graphics card lineup.
You can download the Neon Noir benchmark from the Cryengine marketplace for free if you want to test our your own gaming PC.
Since that demo was first revealed, both Nvidia and AMD have also released some of their best graphics cards yet. Nvidia has refreshed its Turing lineup with the SUPER series, including the RTX 2080 Super, RTX 2070 Super, and RTX 2060 Super. And AMD launched its 7nm RX 5700 series, featuring the RX 5700 and RX 5700 XT.
PCGN test bench: Intel Core i9 9900KS, 16GB Corsair Dominator @ 3,466MHz, MSI Z390 Gaming Edge AC, Seagate Firecuda 510 1TB, Corsair HX1200i, Corsair H100i V2, Philips BDM3275
The compute efficiency afforded to Nvidia in the Neon Noir demo through its use of dedicated ray tracing hardware is considerable.
The GTX 1080 Ti features 3,584 CUDA Cores within its top-tier Pascal architecture GP102 GPU. The RTX 2060 Super features just 2,176. In any traditional rasterised workload the former would crush the latter into smithereens, far surpassing the performance available to the entry-level RTX card. In Neon Noir, a ray traced workload, this advantage dissipates entirely, leaving both cards on near-equal stepping.
That alone should speak to the huge boon that dedicated ray tracing hardware offers, even across the 34 RT Cores (one for each SM) located within the RTX 2060 Super's TU106 GPU.
The RTX 2060 Super meets its match in AMD's RX 5700, a 7nm chip built on the RDNA architecture. What's lacking on AMD's part, however, is dedicated ray tracing silicon, and this card falls dramatically short of the RTX 2060 Super's average fps across all resolutions as a result.
The predictably close battle between the RX 5700 XT and RTX 2070 Super isn't quite so near run in Neon Noir either. The RTX 2070 Super dominates the RX 5700 XT despite their relatively equal-footing in rasterised tasks.
You get the picture, and I won't beat a dead horse any longer. The results are what you'd expect following over a year's worth of Nvidia rhetoric on ray tracing to much the same end: RTX good, non-RTX bad.
What can be said for AMD's 7nm RDNA architecture, however, is its ability to hit over 60fps on average in Crytek's demo. Both the RX 5700 and RX 5700 XT manage this task, with the latter even managing 99th percentile performance that's damn near playable. AMD can ray trace, after all.
Crytek's Neon Noir demo is a alluring taster of things to come for ray tracing performance and optimisation
But who do we have to thank for AMD's ray tracing performance? It's not AMD, that's for sure. The red team has remained aloof when it comes to real-time ray tracing, instead restricting its efforts to the professional workstation and render markets for now. Its gaming GPUs are merely trying to brute force ray tracing construction with compute cores, which will only get you so far. No, who we can actually thank for AMD's ray tracing ability is… Crytek.
Crytek's Neon Noir demo is an alluring taster of things to come for ray tracing performance and optimisation. The company has preened and optimised Cryengine Total Illumination for low-impact operation on hardware that lacks the assumed prerequisite silicon for ray tracing.
"One of the key factors which helps us to run efficiently on non-RTX hardware is the ability to flexibly and dynamically switch from expensive mesh tracing to low-cost voxel tracing, without any loss in quality," Vladimir Kajalin, principal rendering engineer for Cryengine, said in a Q&A earlier this year. "Furthermore, whenever possible we still use all the established techniques like environment probes or SSAO. These two factors help to minimize how much true mesh ray tracing we need and means we can achieve good performance on mainstream GPUs."
"All the objects in the Neon Noir Demo use low-poly versions of themselves for reflections," Ron Frölich, principle 3D artist for Hunt: Showdown, says. "As a few people have commented, it is noticeable on the bullets, but it's a lot harder to spot in most cases. That said, we can easily fix the reflection on the bullets by using more detailed LODs or just not using LODs at all."
It's worth noting that, despite how stunning the Neon Noir demo may look on the surface, its ray traced pretties are only skin deep. It's no doubt a question of previous trade offs between performance and visual fidelity, and one which the Cryengine team have been keen to reference when discussing implementing ray traced ambient occlusion or shadows. Neither of these effects made it into the demo due to their impact, and so too has Crytek limited the scope of reflections and refraction throughout the scene. You'll find more in-depth, and costly, ray-traced effects in some of today's RTX games – Control, for example.
And so AMD's rather admirable 1080p performance can be attributed to Crytek's necessary and adroit optimisations. The same optimisations that would turn any graphics card, AMD or otherwise, into a fairly capable ray tracing rig at 1080p.
But Crytek also promised to optimise their benchmark for ray tracing hardware and the latest APIs earlier this year, and it's since delivered. With hooks in place to rally all available silicon for ray tracing, Nvidia's accelerated silicon easily storms ahead – as it always will in this GPU generation.