Quake II RTX is now available to download for free from Steam or the Nvidia website. The old school classic, which initially launched in 1997, has been given the full RTX makeover courtesy of Nvidia's own in-house dev team, LightSpeed Studios, introducing cutting-edge path tracing, some new and improved textures, and even a new gun.
Real-time ray tracing is a graphics rendering technology that allows for genuine, realistic lighting, reflections, and refraction within any given scene. It's not that new of a concept, either. Game developers and creative professionals have been utilising it to pre-bake scenes with spectacular lighting for years, but only in the last year, since the launch of Nvidia's RTX 20-series, has this demanding technique been achievable within games in real-time.
Quake II RTX is built utilising a specific ray tracing technique called path tracing. This encompasses most of the ray traced functionality that is independently applied, effect by effect, in modern titles, including shadows, reflections, and refraction under one roof. Modern RTX titles, such as Battlefield V or Shadow of the Tomb Raider, pick and choose specific ray traced effects to implement in game, rather than the whole, computationally-demanding, lot.
"We are giving Quake II back to gamers with a bold new look, as Quake II RTX," Matt Wuebbling, head of GeForce marketing at Nvidia, says. "Ray tracing is the technology that is defining the next generation of PC games, and it's fitting that Quake II is a part of that."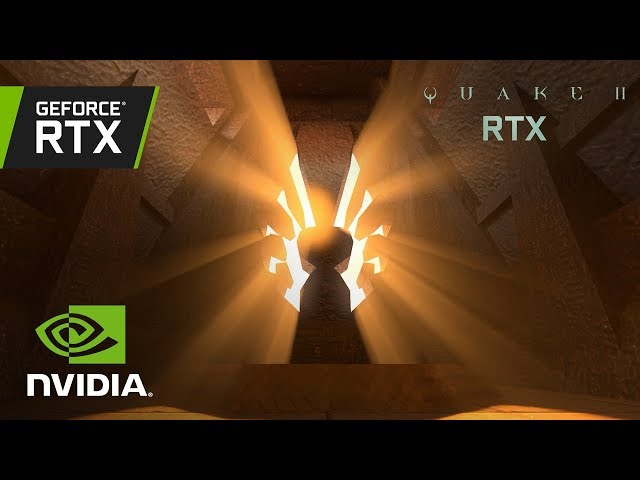 Nvidia LightSpeed Studios also added a new flare gun into the game, allowing you to illuminate the world and show off all that RTX goodness at will.
Quake II RTX was built upon the foundations laid down by Christoph Shied at the Karlsruhe Institute of Technology with Q2VKPT. Nvidia picked up the baton and added further RTX optimisations and improvements found in today's release.
RTX or GTX? These are the best graphics cards right now
Minimum requirements for Quake II RTX include an RTX 2060, Intel i3 3220, 8GB RAM, and at least 2GB of storage space.
The free version of Quake II RTX includes three levels from the original shareware distribution, and is available to download right now on Steam and Nvidia.com. If you want access to the full game, you only need to drop £4 for the complete experience including multiplayer support.