Nvidia is poised to unveil some details about its next generation of 'Ampere' GPUs in only two days' time. But Nvidia has already reportedly let slip details about the upcoming GPU lineup, and if these are correct then RTX 30-series GPUs could bring the most impressive generational graphics performance and technology upgrade we've seen in quite some time.
This information comes from tech YouTuber Moore's Law is Dead (via TechPowerUp), who claims to have been given the details by insider sources at Nvidia. (Note: we've reached out to Nvidia for comment on this apparent leak and will update this story with any new information). The information gleaned from these sources, if correct, would mean we're in store for some next-gen, ray tracing, rasterising machines that could very easily populate the list of the best graphics cards for gaming.
On the upper end of the lineup, for example, the GA102 GPU (the next generation's version of the RTX 2080 Ti, judging by Nvidia's naming convention) is said to give 40% higher performance at 4K resolution in poorly optimised games and, more usually, a 50-70% increase in performance in well-optimised games when compared to the current-gen RTX 2080 Ti.
In terms of clock speed, where the RTX 2080 Ti has a boost clock of 1,635MHz, the GA102 GPU will reportedly boost to above a whopping 2.2GHz, exceeding 21 TFLOPS of performance. It will also reportedly have around 40% more memory bandwidth than the RTX 2080 Ti, meaning its PCIe 4.0 interface (yes, this has reportedly been confirmed too) will be put to good use.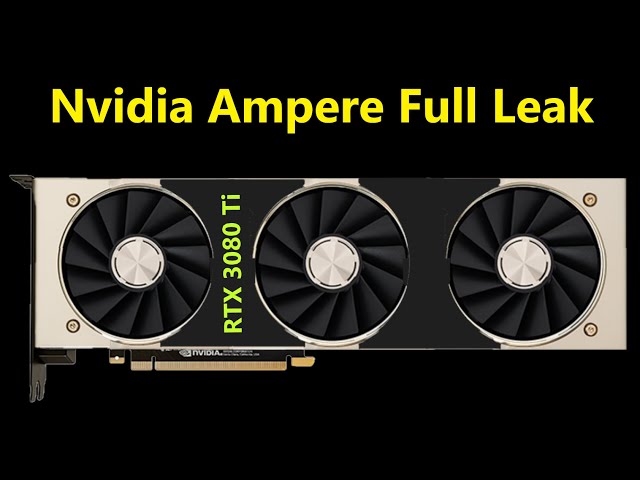 These sorts of performance increases compared to current-gen counterparts could very well be extended down the lineup, with GA103 (a new GPU inserted between the top-end and high-end products) and GA104 (read: RTX 3080) GPUs expected to boost up to 2.5GHz – this is apparently not confirmed by the source, but is just what is "expected by the engineer".
To achieve this insane performance increase without getting too hot, the GA102 will supposedly host a triple-fan cooler design, similar to the 20-series Founders edition but with one extra fan. And it might even do so without guzzling up too much energy since its engineering sample is said to require only 2x 8-pin connectors rather than the 3 required for the RTX 2080 Ti's engineering sample.
Apart from what they say about sheer performance, if these next-gen GPU details are correct then ray tracing may become a whole lot more mainstream for gaming. Moore's Law is Dead says that when it comes to ray tracing, based on the information he has received, "even lower mid-range Ampere cards could vastly outperform the highest-end Turing cards".
This is supposedly not due to an increase in the amount of RT cores per streaming multiprocessor (SM), but because Ampere's RT cores themselves will perform much better, being able to process intersections four times faster than Turing's RT cores. This apparently led to a GA102 GPU performing four to five times faster than a Titan RTX in Minecraft RTX.
So, with an Nvidia Ampere release date of most likely around September 2020, there isn't too long to wait for what seems to be shaping up to be a revolutionary step forwards in graphics performance and technology. Not only might we get GPUs that perform much, much faster than their current-gen counterparts, but we might also see the onset of ray tracing in games and hardware that can properly support it. I wonder what AMD's Navi 2X GPUs will strike back with. Something just as exciting, I hope.