The Nvidia RTX 4090 is a chonky beast, but you can transform the best graphics card contender into a pocket-sized powerhouse using the magic of water cooling. While the custom design isn't really intended for regular builds, it demonstrates just how much weight you can shave off of the GPU by ditching fans and heatsinks.
Our Nvidia RTX 4090 review dunks on the green team's premium GPU for its size, but the heft is somewhat required to keep it running at reasonable temperatures. After all, we're talking about a card that can boost fps at ultra 4k settings in the latest games without breaking a sweat. However, you can say bye-bye to all that bulk using an Alphacool ES water block, and the results are astounding.
In a newly uploaded video, Optimum Tech show off the "World's Tiniest RTX 4090" that's equipped with the aforementioned water block. The add-on is only compatible with a few models, and the YouTuber uses a custom iChill Inno3D card to test it out. Size-wise, the water-cooled GPU measures in at just 210mm long, so it could fit inside a dinky ITX case.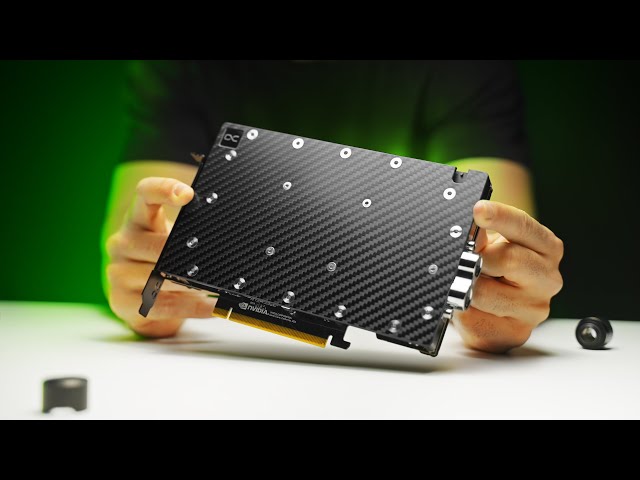 Transforming the RTX 4090 into a wafer-sized monster is great, but what about thermal performance? Well, Optimum Tech says temps are on par with alternatives like the MSI Suprim Liquid X, running the likes of God of War while maintaining around 53°C. In other words, you won't have to worry about your graphics card getting hot and flustered, even when it comes to demanding PS5 PC ports.
The RTX 4090 hasn't been around long, but the graphics card scene is already coming up with ways to squeeze the goliath GPU into tighter spaces. Alphacool's water block is designed with server setups in mind, as the reduced size means more cards can fit into a rack. Nevertheless, if it also helps make smaller powerhouse builds a reality, we're on board, even if the whole affair feels a little bit extra.