The latest addition to the menagerie that is Overwatch's cast of heroes is Hammond, a diminutive hamster in a wrecking ball mech. Hammond is the cutest little deathball in all existence – we love him. And not just for his fur and attitude, as we also love what Hammond represents: clearly, the door is open for all manner of weird and wonderful animal-based Overwatch heroes to follow.
We don't want any that aren't animal-based, though. What's the point in that? As far as we're concerned, any future heroes that aren't in some way based on a creature from the wild are going to have to work a lot harder for our affection. A lot harder.
Give us more of the snorty oinks of Roadhog, the angry aping around of Winston, and yes, more hamsters in balls and even other small rodents that can stuff food in their cheeks and look cute as heck doing while they rack up an enviable, MVP-triggering kill streak.
With that in mind, here's our top ideas for future Overwatch heroes, in all their furry, scaly, and slimy goodness.
L.A.I.K.A.
Role: Tank
As a dog, L.A.I.K.A. was one of the first animals launched into space. Now she's out to prove that Hammond isn't the only animal that can drive a mech.
Primary:Laser Blasters
Secondary:Repulsor Shield
Mobility:Jump Jet
Ultimate:Satellite Ordinance
Unbeknownst to the rest of the world, Volskaya Industries undertook its own version of the experiments carried out on the Horizon Lunar Colony. In order to aid in the Omnic Crisis, the Russian company started turning animals into war machines.
They saved Laika's brain. And the rest of her head. And now, placed in a brand new state-of-the-art mech suit, the legendary cosmonautical dog is Overwatch's newest hero.
L.A.I.K.A. is a tank hero whose mech can jump great heights, generates a large force-field bubble at will, and fires highly accurate laser blasts. Her ultimate, Satellite Ordinance, engages the mech's hover mode and turns her lasers into devastating explosive barrages.
Full Metal Jackal
Ace commando Captain Ian Jackson, master infiltrator, was a legend during the Omnic Crisis. That is… before the accident.
Role: Damage
The jackal-headed god Anubis is associated with the afterlife in Ancient Egypt mythology. Full Metal Jackal likes to think he continues that association by killing his targets.
Primary:Pulse MG
Secondary:Helix Cluster Launcher
Mobility:Active Camouflage
Ultimate:First Blood
It was supposed to be a routine mission: wait till the Omnics try and cross the suspension bridge and then detonate the C4 located at weak points in the structure. The blast demolished the bridge, but a rogue cable snapped backwards and severed Jackson's head. An emergency medevac team, unable to salvage Jackson's ruined skull, made the decision to transfer Jackson's consciousness into the nearest animal they could get their hands on – a jackal.
Full Metal Jackal is a damage-based hero, capable of camouflage, blending into the environment, and wreaking havoc from the flanks with an array of explosive ordinance and machine gun fire. His ultimate, First Blood, allows him to turn completely invisible and deal a single instant-kill knife attack.
Metal Slug
Role: Tank
It's said that Metal Slug's tracks are capable of squashing an entire pillar of solid marble. The machine shows no sign of remorse when it pops the heads of its victims.
Primary:Flak Burst Cannons
Secondary:Adaptive Armour
Mobility:Siege Mode
Ultimate:Crush 'Em
The brainchild of mad scientist Dr. Helga Pulmo, Metal Slug is an AI-controlled all-terrain warmachine with almost impenetrable armour. Why did she make it, you ask? Why not, she would reply… if she wasn't dead. Tired of its dull life of squashing people who turned down Pulmo's grant applications, Metal Slug squashed its creator and set off for the hills to squash on its own terms.
Metal Slug is a tank hero, best suited to leading the charge onto point and soaking up enemy fire. It doesn't move quickly, but it slowly regenerates its armour and will instantly squish any hero that gets in its way. For long-range encounters, Metal Slug is fitted with a pair of flak cannons, making it ideal for taking out flying heroes. Its ultimate, Snail You Later, turns the leviathan's flak cannons into one giant Howitzer that can take out the entire enemy team in one blast. Don't miss, though, as it's one shot per ult.
Pistol Shrimp
The scientists at the Horizon Lunar Colony got a bit bored sometimes. Apparently, they decided that a good use of their time would be to imbue a shrimp with consciousness and show it a load of Wild West movies.
Role: Damage
Upon learning the phrase 'like shooting fish in a barrel', Pistol Shrimp quickly adopted it as his own catchphrase and makes sure to say it after any victory, preferably while his guns are smoking.
Primary:Dual Peacekeepers
Secondary:Salt Splash
Mobility:Tuck-and-Roll
UIltimate:Crustacean Caboodle
After the colony fell, the Pistol Shrimp went to Earth to learn under the tutelage of his idol, Jesse McCree. That was the plan anyway. Turns out McCree wasn't too keen to take on an apprentice, especially not one who has to stay submerged in salt water.
Pistol Shrimp is a damage hero. While McCree is all about pinpoint shooting, Pistol Shrimp is all about filling the air with lead. He ain't accurate with those six-shooters, but by gum no critter can fire and reload a big iron faster than Pistol Shrimp. His ultimate, Crustacean Caboodle, reveals the two extra shootin' arms hidden under his hat and doubles his damage (and lead) output.
Sharky
Role: Support
It's theorised that the reason a shark was put into a healing android was to make up for the years of bad rep the finned fish got after the 1975 film Jaws.
Primary:Splash
Secondary:First Aid Leak
Mobility:Flail
Ultimate:Ok Forget It
What's the most dangerous animal on the planet? That's right… MAN. And the second most dangerous? Sharks! Ok, it's probably mosquitoes. But sharks are cooler.
In order to create the most advanced killing machine ever, scientists engineered Sharky, an android body with the brain of nature's most vicious predator, the great white shark. It, uh… it didn't really work. It mostly just flops about and wriggles. Dunno what the scientists were expecting, to be honest.
Anyway, to try and salvage this whole mess they put a healing nanobot generator in its head. When it flops it puffs out big clouds of healing from its ears. It can't really move, though, so someone will probably have to carry it onto point.
Its Ultimate, Ok Forget It, shuts down Sharky permanently and makes it unselectable for the rest of the match.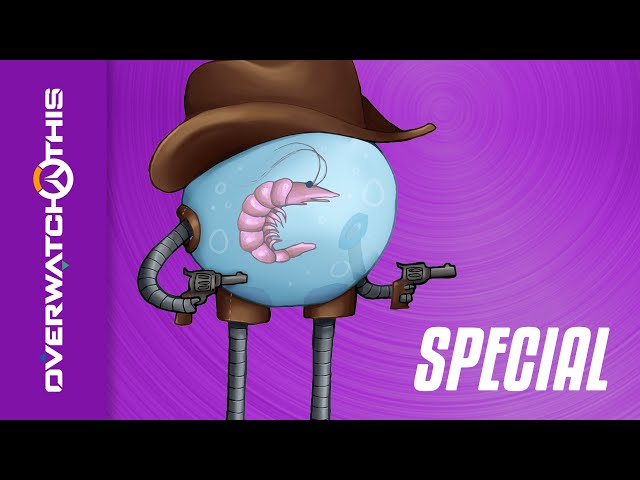 Character illustrations by Sarah Taylor.