The Returnal system requirements don't require a cutting edge gaming PC to meet, despite the PlayStation 5 origins of the roguelike game. However, budget builders may need to upgrade their graphics card to avoid undesirable levels of performance.
Developers Housemarque and Climax Studios set the minimum Returnal PC specs with quad core processors, 16GB of RAM, and either an Nvidia GTX 1060 or AMD Radeon RX 580. Sure, the latter GPUs aren't the best graphics card options around, but if you're rocking an older gaming laptop or a budget build, running the roguelike might be off the table.
These are the Returnal system requirements:
Minimum
(720p / Low / 60fps)
Recommended
(1080p / High / 60fps)
OS
Windows 10 64-bit
Windows 10 64-bit
CPU
Intel Core i5 6400
AMD Ryzen 5 1500X
Intel Core i7 8700
AMD Ryzen 7 2700X
RAM
16GB
16GB
GPU
Nvidia GeForce GTX 1060
AMD Radeon RX 580
Nvidia GeForce RTX 2070 Super
AMD Radeon RX 6700 XT
VRAM
6GB
8GB
Storage
60GB
60GB SSD
As you'd expect, you'll need an even beefier build to match Returnal recommended specs, specifically an Nvidia RTX 2070 Super, AMD RX 6700 XT, or something on par with 8GB VRAM or more.
Not even your ageing mechanical storage is safe, as the studio recommends ditching your hard drive. That doesn't necessarily mean picking up the best SSD for gaming, but if your Steam Library still lives on a revolving disc, it might be time to invest.
Epic
(4K/ Epic / 60fps)
Ray Tracing
(Upscaled 4K / Epic/ 60fps)
OS
Windows 10 64-bit
Windows 10 64-bit
CPU
Intel Core i7 9700K
AMD Ryzen 7 3700X
Intel Core i9 11900K
AMD Ryzen 9 5900X
RAM
32GB
32GB
GPU
Nvidia GeForce RTX 3080
AMD Radeon RX 6800 XT
Nvidia GeForce RTX 3080 Ti
AMD Radeon RX 69 XT
VRAM
10GB
12GB
Storage
60GB SSD
60GB SSD
As is tradition now with PlayStation releases on PC, we also have separate 4K and ray tracing specs. They're a signifcant step up in just about every way compared to the previous requirements, requiring double the amount of RAM and more powerful processors and GPUs.
Thankfully, you'll be able to boost fps in Sony's former PS5 exclusive. Both Nvidia DLSS and AMD FSR will be supported, with Nvidia Image Scaling (NIS) also making an appearance for ageing GTX graphics cards.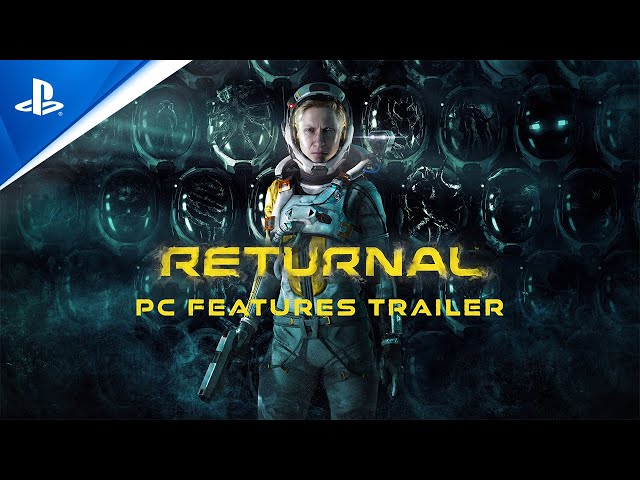 Take the Returnal system requirements test over on PCGameBenchmark to answer the question… Can I run Returnal?