The latest trailer for Star Citizen's Squadron 42 recently dropped, looking gorgeous enough to make its many fans start throwing money at their screens. The latest trailer for the record-breaking crowd-funded title shows off a quite a bit, with allusions to its plot, a few seconds of gameplay, and a cast full to the brim of big names.
Topping the bill are the likes of Mark Hamill, who's set to pick up where he left off in the Wing Commander games of old. We also finally got confirmation that Henry Cavill, who was recently cast as Geralt of Rivia in the Netflix adaptation of the books, will join Hamill in Squadron 42 as pilot Ryan Enright. Cavill has pinned a clip of himself in the game to his Facebook page, commenting that he was set to "answer the call".
Hamill himself took to Twitter to promote the trailer, bringing the ambitious game to almost three million of his fans in the process. It's clear that many such fans are not gamers: one reply to Hamill's tweet seems to think that Squadron 42 is a Netflix show, much to the amusement of davidnfilms on Reddit, who says: "we've reached people guys… like a lot of people."
Shoring up Hamill and Cavill in Squadron 42 are Gary Oldman, Gillian Anderson, Mark Strong, John Rhys-Davies and more. Do some star-spotting of your own in the trailer below: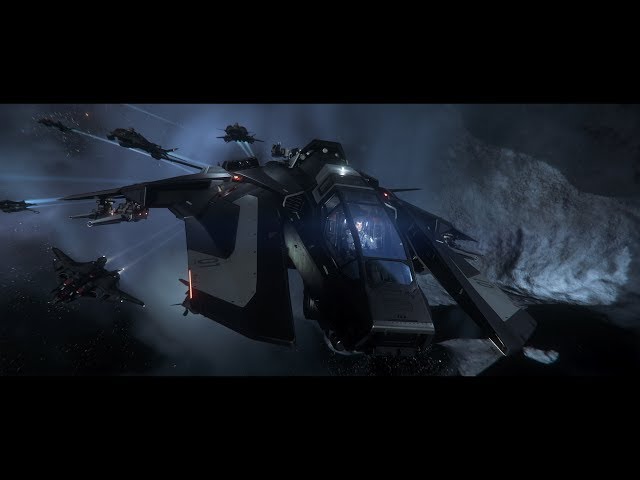 It's honestly a pretty amazing cast, boasting some of the highest-profile actors we've yet seen in a game. But then I guess that's what literally hundreds of millions of crowdfunded dollars can get you.
Arh okay, I remember those games a bit. I might catch it if it comes on Netflix since the trailer is still pretty weak for me. The only thing my brain thought was Final Fantasy, and none of the dialog chosen made me think, "Uhh wonder what that was about" 🙂

— S.E. Johansen (@S3Johansen) October 11, 2018
Between star power like that and the apparent excitement of Hamill's fans on Twitter, Star Citizen – a huge space sim of which Squadron 42 is only the single-player campaign – stands poised to push gaming even further into the mainstream. The game is aiming for a full release in 2019, though no specific date has yet been announced.