Yawaevig. Do you know what that is backwards? Giveaway. That's right – it's another giveaway from us at PCGamesN to our lovely readers (that's you).
Star Trek Online is a free-to-play MMORPG set in the expansive Star Trek universe. You can revisit characters, worlds, and storylines from both the classic and the current TV shows. As part of the latest Legacy update, former Borg drone and Voyager crew member, Seven of Nine, and Discovery science officer Michael Burnham are joining the game, with original actors Jeri Ryan and Sonequa Martin-Green lending their vocal talents.
Remarkably, Star Trek Online recently turned ten years old, and as part of its birthday celebrations, we're offering a very special giveaway. A huge number of exciting prizes are up for grabs across three tiers of value. Three lucky gold prize winners will get a limited edition chest pin and a Federation Fleet Admiral bundle full of highly desirable in-game loot, while 50 silver tier winners and 500 bronze tier winners will get a number of other digital goodies. Read on for full details. You may also be interested in our big interview about Star Trek Online and its remarkable development since 2010.
Gold Tier: Federation Fleet Admiral bundle, limited edition badge (3 prizes)
We have three of these first-rate prize bundles to give away. In addition to a shiny limited edition Star Trek Online badge, sent to you in real, physical life, you'll get a ton of in-game goodies, too. Each bundle includes three different styles of Starship as listed below, along with faction-related items to begin your adventure as a future Federation Fleet Admiral! Note that this is available for Federation captains only.
In-game content includes:
T6 Valiant (Escort Vessel)
T6 Andromeda (Cruiser Vessel)
T6 Pathfinder (Science Vessel)
2 Ship Slots
1 Caitian Bridge Officer
Racing Uniform
1 Exocomp Pet
Title: Voyager
Title: Seeker
Title: Pathfinder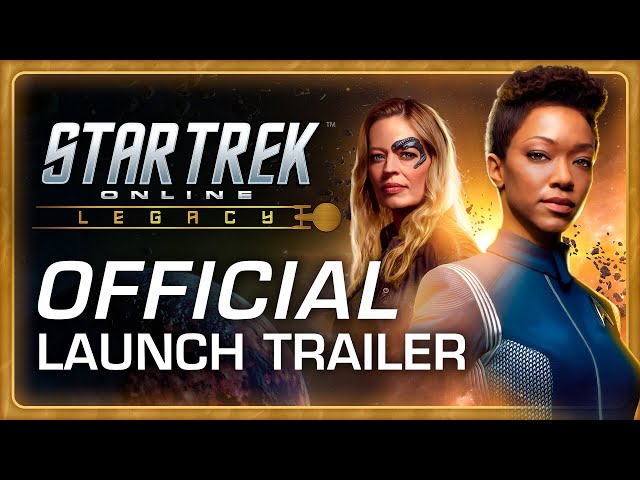 Silver Tier: T6 Europa-Class Heavy Battlecruiser (50 Prizes)
The Europa-class heavy battlecruiser is well-suited to the frontiers of the Federation, whether the mission is one of exploration or defence. It is named after the USS Europa, a Nimitz-class vessel lost at the infamous Battle at the Binary Stars under the command of Admiral Brett Anderson in 2256.
This modern 25th-century counterpart to that ill-fated flagship of yesteryear has been fully outfitted with the latest in team support capabilities, and a substantial array of versatile armaments.
Note that this is available for Federation captains only.
Upon redeeming the code, the starship will be automatically placed in an active ship slot and cannot be claimed if one is not available.
Bronze Tier: Federation Elite Starter Pack (500 Prizes)
This starter pack will help any Federation captain begin their adventure in Star Trek Online! Note that this is available for Federation captains only. If you've redeemed this pack in the past, you will not be able to claim it again.
In-game content includes:
T6 Reliant class – advanced light cruiser (scales as you level!)
12 Inventory slots
12 Bank slots
2 Bridge Officer slots
1 Borg Bridge Officer
13 Mark II Very Rare Space Gear
7 Mark II Very Rare Ground Gear
Starfleet Academy Uniform
So, if you've been counting, that's 553 prizes in total of varying rarity! If you want a chance of winning one then you need to enter the competition via the widget below. Complete the one action available and you're done.
We'll also need your email address so we can send you a code upon winning – we won't send you spam, we promise. Please read our terms and conditions before you enter.
Star Trek Online Legacy Giveaway

While you're here, give us a Like over on the PCGamesN Facebook page, or follow us on Twitter, and we'll keep you up to date on all our future giveaways.