The creator of one of the most popular mods for The Elder Scrolls V: Skyrim has been forced to apologize to the modding community for putting the mod's incredibly useful automatic installation system behind a paywall.
Ultimate Skyrim 4.0 is a total conversion modpack for Bethesda's Skyrim that brings together dozens of mods to completely rebuild the game into something more focused on role-playing and survival – or as the modpack's page puts it, turning Skyrim into "an immersive and unforgiving landscape, where only the strong and the clever survive". The trouble, however, has come from the incredibly useful Automaton system, which Ultimate Skyrim creator's Belmont Boy has bundled in with the modpack.
Automaton is a system that automates the creation and installation of modpacks, recreating any modpack's exact installation parameters so they can quickly and cleanly be installed – without any of the conflicts and mucking about that usually happens when combining mods. Obviously this auto-installer is extremely useful, so it's understandable that the community was upset when Belmont Boy revealed that he would only make it available to his Patreon subscribers for a $5 fee.
Belmont Boy took to Reddit today to apologize for putting the automated installer for Ultimate Skyrim behind a paywall. "I knew that my choice to monetize Ultimate Skyrim's auto-installation would be controversial," he says, "but I (naively) did not anticipate the storm that would erupt from simultaneously introducing my monetization and a tool such as Automaton. I handled that announcement inexpertly, and am very sorry for any turmoil that resulted."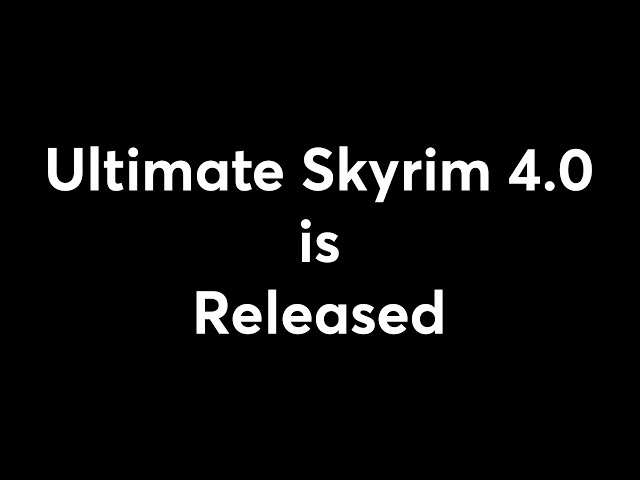 He has since implemented a few changes. While the clunky manual installation of Ultimate Skyrim 4.0 will still be free, and the latest version of the modpack with the Automaton-based auto-installer will still be only available to his Patreon subscribers – all previous versions of UltSky with the auto-installation will be available for free. So, whenever a new version of Ultimate Skyrim is released, the previous version with auto-installer will be made available for free.
Shout it out: check out the 100 best Skyrim mods
Belmont Boy explains that this way is "my best bet of generating enough stable income to continue working on Ultimate Skyrim full-time, as I have for the past 3 years, while also supporting my family." As an additional apology, he also says that 5% of his monthly Patreon income will go to the Nexus Points Donation Fund to support mod makers – which is nice of him.